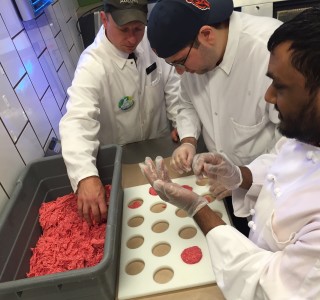 First Jobs Program: Week 4
July 8, 2016 | Haley Hoffman
I am Haley and I have been assisting with the First Jobs Program since it launched a few weeks ago. I am a rising junior at Loyola University Chicago studying advertising and public relations, and had never worked with anyone who was visually impaired before taking on this role. The challenge of a new experience excited me and I knew that no matter what, I would learn from this opportunity. But how much I would learn, I could not have anticipated!
I have been working primarily with our group at Mariano's: Elbra, Justin, Noel and Steven. On their first official day of work, everyone arrived on time with enough extra time to put their personal items in the break room and check in to the customer service desk for the first time. They clocked in, like all Mariano's employees do, and received black ties and Mariano's hats to wear with their uniforms.
Elbra and Justin were placed in the meat department and were responsible for making burgers, meatballs and other items for display. Noel and Steven were placed in the bakery. They counted out cookies, boxed them up and labeled the boxes. From day one, everyone was efficient and consistent with their work.
Going into the second day of work, the group came in with a little more confidence and comfort in their roles. Right as everyone arrived at their stations, they were greeted by positive news… Mariano's offered official jobs to all four participants! Rather than continuing on as intern-employees through The Chicago Lighthouse, all were given the opportunity to be official employees at Mariano's. This gave everyone so much more confidence in their work and reassurance that they were already doing an excellent job.
The guys went into the next two weeks of work with noticeably more confidence than week one. All have become more successful, efficient and independent in their work, from making burgers to packing cookies to offering samples. They are becoming more open to new experiences and opportunities to learn new skills. For example, one of the meat department managers offered to teach Elbra to use the meat grinder to make chicken patties. This was a great opportunity for Elbra to go outside of his comfort zone and learn a new skill to help his department.
All of the guys are also now completely independent in navigating throughout Mariano's. Despite being a huge store, the boys have learned their routes so well that they need little to no help finding their way around the store, which gives them even more confidence and independence.
In just four short weeks, these boys have taught me, as well as the people they now work side by side with every day, a greater sense of patience and understanding. All have an amazing sense of humor and a unique perspective on life. With the experiences they are getting through the First Jobs Program, they are not only learning the key elements of a job, like building their resumes and developing workplace communication. They are also building the confidence and independence they need to be recognized for the talented and capable people they are!
We still have five weeks left in our program, so stay tuned to hear more about these amazing young men.
---
Learn more about the First Jobs Program offered through our Teen Transitions Program. And continue to follow the stories of our participants through the end of the program!