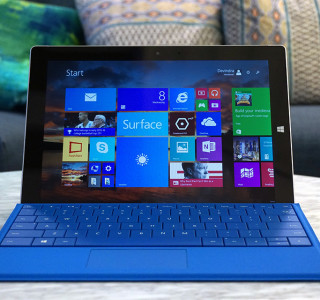 Microsoft Surface Brings Full Portable Computing to the Blind and Visually Impaired
With the release of Microsoft's Surface 3 tablet/laptop hybrid we thought it was time to blog about the benefits of this great line of devices for people who are blind or visually impaired (read a review of the Surface 3 here http://www.engadget.com/2015/04/15/surface-3-review/)

The Surface 3 is the first time that Microsoft have released a Surface outside of the Pro line that runs a full version of Windows 8.1 – what does this mean? It means you will get a fully functioning laptop replacement running a full version of Windows for a lot cheaper than was previously possible.

Starting at just $499, the Surface 3 can have up to 4GB of RAM and 128GB storage, and uses an Intel 'Atom' processor which seems from the reviews to be capable for most users needs. Also available is the great Surface Type Cover, a fantastic keyboard with fully tactile keys that also doubles as a cover (although this will set you back a further $130).

The keyboard is a great feature for people who are blind as it allows easy navigation of the computer using the keyboard only, and also connects to the tablet with a strong magnet meaning you don't have to fumble to find the port and connect it – simply bring the Surface close to the keyboard and the magnet will do the rest! Talking of ports, the Surface also offers a full sized USB port, making it a breeze to connect a printer or transfer files with a USB drive).

The other great thing about the Surface 3 (and Surface Pro, Surface Pro 2 and Surface Pro 3) is that it runs a full version of Windows 8.1 – meaning if you are a current user of JAWS, NVDA, Window-Eyes, Zoomtext, MAGic or anything else that runs on a Windows platform you can install in on this tablet and be ready to get computing right away! Also, any programs you are used to using on your computer, be it something from the Microsoft Office suite, Google Chrome, Photoshop or anything else that will run on a Windows computer can be installed and run on the Surface.

The convenience of being able to pick up a tablet and be familiar with the OS and operation for someone who is blind or visually impaired is huge, as it means no need to familiarize yourself with a whole new operating system that may or may not have been designed with the needs of the blind and visually impaired in mind. As the Surface line has been around for a while now you can also save some money by buying used or refurbished devices, just make sure you buy The Surface Pro, Surface Pro 2, Surface Pro 3 or Surface 3 – The Surface and Surface 2 do not run full versions of Windows 8.1.