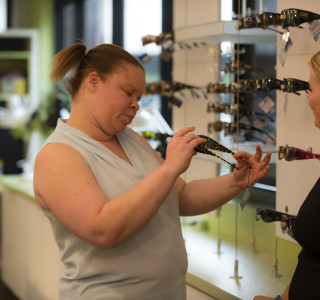 How Do People Who Are Blind or Visually Impaired Shop Independently?
April 16, 2015
When it comes to shopping, people who are blind or visually impaired have the same options as everyone else. By using a few alternative tips and technique, we can shop independently and confidently with ease. This post gives a general overview about how someone who is blind or visually impaired goes about performing this task. I also list a few suggestions for people with visual impairments that can help make shopping a pleasant experience!
Shopping With a Friend or Family Member
Having a companion shop with you can be of great help, especially if they are familiar with your preferences. For example, when shopping for clothes, it can be helpful if they have a general idea of your particular color and style preferences. Of course, the person's companion is not there to decide what the individual who is blind or visually impaired needs, but rather to assist them in picking out the items. If, for example, the individual only needs a couple basic things, then he or she might ask a friend, neighbor, etc. to pick up the items.
Asking for a Shopping Assistant
A second alternative is to ask for a shopping assistant. This can be someone who works at the store, such as a sales associate or – in some department stores – a personal shopper. While in larger stores, people can request shopping assistance at the moment they walk in, other smaller stores ask people to call in advance to notify them when they will need help. It's always a good idea to check with your local store beforehand. If both the store personnel and the individual are familiar with each other, the person might be able to call in advance and give the grocery list to the store.
Making a Shopping List
Whether shopping with a friend or soliciting assistance from the store, it's always a good idea to make and bring a list of the things you want or need. That way both you and the person helping you will find the items much easier. It's also a good idea to organize the list and group items specific to each department – list all of the produce, paper products, toiletries, etc. together. There's no need to repeatedly be scurrying up and down the aisles trying to find the things you missed! If there's a specific brand you need, it can also help to note this on the list.
Online Shopping
The Internet makes it possible for everyone to shop from the comfort of their home. This can be a convenient alternative for people who are blind or visually impaired. Thanks to computer accessibility, it is now possible for people with visual impairments to browse the web independently. People can now shop for anything online, ranging from clothing to groceries. If the person knows exactly what he or she wants, then they can easily search for and purchase the products. The items will be on their way to the person's home and at their doorstep in no time!
Like anyone else, people who are blind or visually impaired can easily do their shopping depending on their preferences and needs. If you are a person experiencing vision loss and are looking for more specific tips on how to go about using any of these methods, you can find more information here.
What are some tips or techniques that have helped you as a shopper who is blind or visually impaired? Please comment! If you have questions regarding this or other topics related to blindness and visual impairment, please send them to sandysview@chicagolighthouse.org.