Sandy's View: What Has Working Remotely Taught Us for 2021 and Beyond?
Even before the COVID-19 pandemic, many people with disabilities realized the advantages of working remotely. Although not impossible, commuting to and from the job can present challenges to people with visual or mobility disabilities. Below zero temperatures during winter and a lack of accessible public transportation are just some of the hardships these individuals might encounter. Now that many people – both non-disabled and disabled – are working remotely, they are realizing the pros and even encourage it. I spoke with Ben Chargot, who is a Team Lead at the UI Health Call Center located at The Chicago Lighthouse. Ben, who is blind, has worked from home since the beginning of the pandemic in March. Ben and his wife Martha live with their pet dog Louie and Ben's guide dog, Sammie. They also moved into a new house during the pandemic, making the transition even more hectic.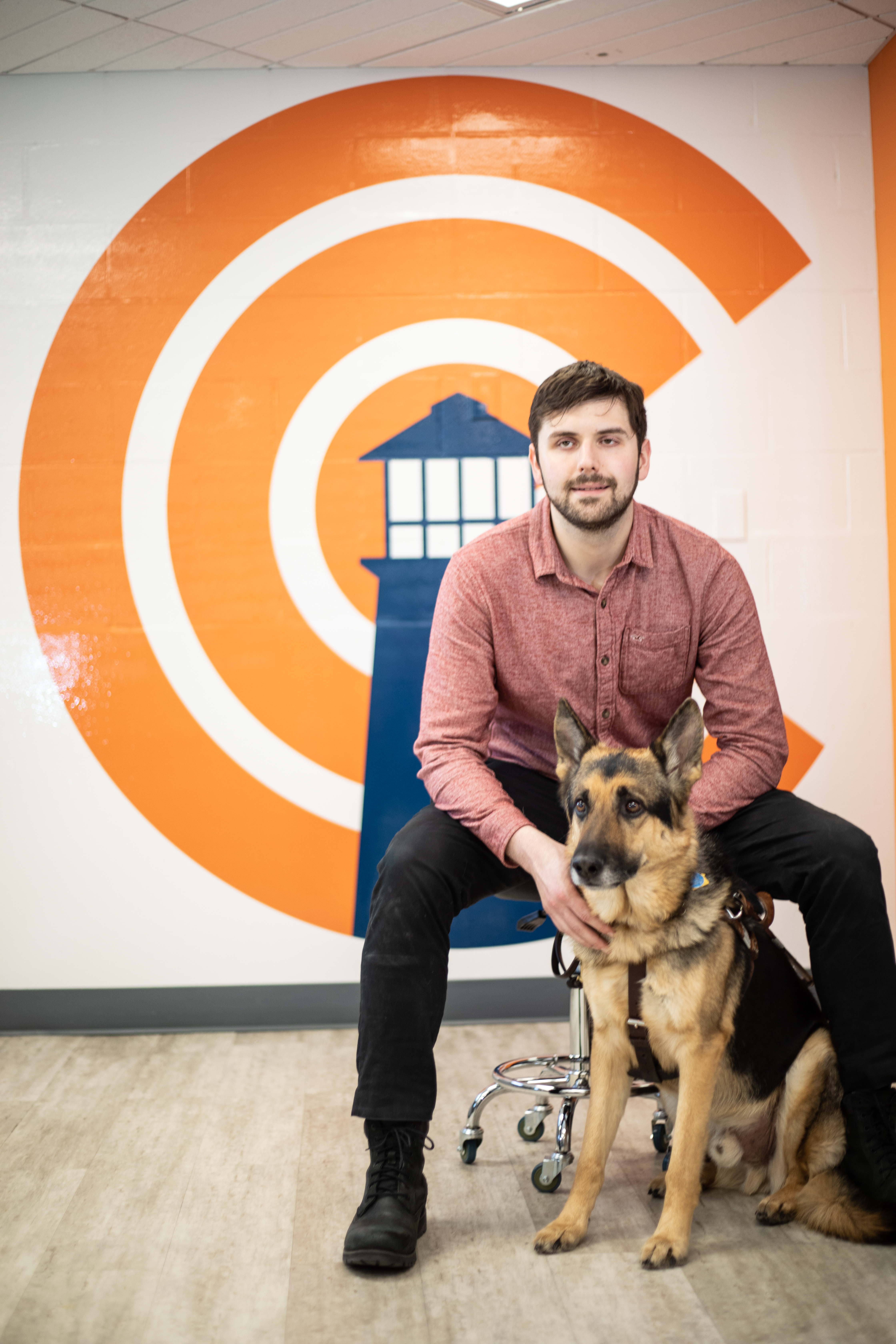 Ben and his guide dog Sammie transitioned to remote work at the start of the pandemic.
When taking the bus to and from his office at The Lighthouse, Ben's commute on average was between 45 minutes to an hour each way. Not having to give himself this extra time affords him more flexibility to do other things, such as wait for important deliveries or work on projects around the house. Still, he misses interacting with fellow travelers during his commute. After all, part of the enjoyment many people get from commuting is the social aspect of interacting with others! Ben knows that Sammie also misses the routine. After all, guide dogs thrive on traveling and getting a lot of physical exercise. For that reason, Ben makes sure to take Sammie out on a long walk each morning. Even trips to the grocery store or taking care of other errands are great opportunities for Sammie to get much needed exercise and be out and about. Ben also makes sure Sammie gets plenty of playtime at home.
Like many other couples, Ben and Martha both currently work at home. Much of Ben's time consists of answering calls from his team and customers, while Martha works as a freelance editor of novels and other publications. Ben has the 'permanent' desk in the living room. Depending on her workload, Martha will either work at the dining room or – if she is swamped and needs to focus extra hard – in the bedroom. They have learned to adapt and share the workspace at home. Since a majority of Ben's time on the job is spent talking on the phone with his team and customers, he must be more self-conscious about any background noise. He says that in the instances where there is barking from Sammie or Louie, callers are very understanding.
Although Ben enjoys the extra time and flexibility of working from home, one of the things he misses the most is being able to meet face to face with his team. Ben oversees 16 call center agents in his position as Team Lead. Previously, he was able to walk around the call center to touch base and supervise his team. Now, managing his staff consists of video and telephone calls, emails, and posts on virtual bulletin boards. All of his management duties now must be done virtually, something that Ben finds particularly challenging.
"I do miss the personal aspect of it … just being there seeing and talking with everybody," he says.
Ben is hopeful that with the recent authorization of the first COVID-19 vaccine and ongoing research on how to treat the disease, we will begin to have a sense of normalcy in 2021. While not everyone will be able to go into the office immediately, he thinks people will gradually return. Someone in his position, for example, might alternate between working from home and coming into the office a couple days per week. Ben says that now that we've learned that making those types of adjustments is possible, more employers and employees will be better prepared to accommodate such schedules.
For those who are new to working from home, Ben advises them to be patient but proactive in adapting to the circumstances. After all, everyone is in the same situation and learning together. He also recommends staying in touch with other co-workers and colleagues. When Ben found out he would be working remotely and probably not see his friends from work for a while, he immediately shared his contact information with them. In his words, having work relations during this pandemic "looks different but is still so important." Finally, he reminds us that it is still important to be professional when working remotely. Although you are working from the comfort of home, things like being on time and adhering to all of the workplace rules is still critical.
Have you had to adapt to working from home during the pandemic? I would love to hear your story! Share your experiences by commenting on this post or emailing sandysview@chicagolighthouse.org.
Back to top