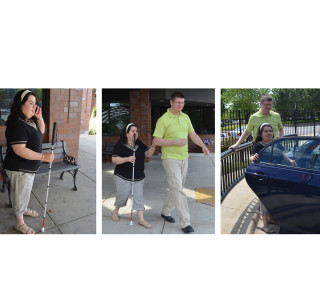 My Experience as a Blind Uber Passenger: Are Ridesharing Services Worth It?
"I'm visually impaired," I began telling the Uber driver, but stopped half way through my sentence after realizing he hung up the phone. I had recently used Uber with another colleague, and decided to give it a try after seeing how easy and fast it was to get and pay for the ride. Ridesharing services such as Uber, Lyft and Sidecar are becoming popular for many reasons. Anyone who owns a smartphone can download the respective apps and request rides in a matter of seconds. Those of us who have used taxicabs know that it can take a while for them to arrive, especially when in smaller cities.
I recently had to go to a work meeting on my own, so I decided that was the perfect opportunity to try Uber out. I had heard about their efforts to better accommodate people with disabilities, and was curious to see how drivers would react to and accommodate a blind person. You probably remember some of our previous commentaries regarding alleged discrimination from Uber drivers against people with service dogs. I have not heard of drivers refusing to pick up someone like me who uses a white cane, and therefore did not foresee myself running into any major issues.
The setup process
Prior to requesting the first ride, users have to open an account. This includes providing contact information, a profile picture and a credit card for billing purposes. The set up was fairly simple and accessible using VoiceOver – Apple's screen-reading software designed for the blind and visually impaired. I also typed in assist, the promotional code which – according to Uber – lets drivers know the passenger has a disability. There are no other sections where users with disabilities can notify drivers of their specific needs or other details.
Requesting and getting the ride
After requesting my ride, I got a notification with the driver's name, car model and estimated time of arrival (ETA). At this point in the process users can cancel the ride and text or call the driver. This last option can be helpful if you are blind and wish to give the driver more specific details about how to find you. All of this information is completely accessible with VoiceOver. My ride would arrive in about four minutes, so I decided to go outside making sure my cane was visible. I figured that way the driver could easily find me. Before I knew it my phone was ringing; it was my Uber driver!
The driver guided me to the car and we were on our way. Out of curiosity I asked him if he had received any type of instruction on how to help people with disabilities. While he hadn't gotten this training from Uber, it turns out he worked as a cab driver for the city of Chicago. He had to learn about the ADA, service animals and people with disabilities in order to get his license.
When we arrived the driver got out of the car and assisted me to the entrance. Of course, the best part was that I didn't have to fumble around in my wallet looking for cash. Once your ride ends Uber will automatically charge the ride to the credit card on file. Since my first experience with Uber had been very pleasant, I decided to use it again later that day to return to my office. The experience was equally pleasant, and the second driver was also friendly and helpful. Needless to say, I gave both drivers a five star rating!
If ridesharing services are available in your area, they might be a convenient way for you to get fast and affordable transportation. This is especially true if you are blind or visually impaired and need other transportation options. Unfortunately, much more needs to be done to make sure Uber and other ridesharing services are fully accessible to people with disabilities. I believe that if ridesharing providers take the time to train their drivers on the rights of people with disabilities, more individuals will have a positive experience. As a frequent cab and (as of last week) Uber passenger, I feel that most drivers do not discriminate against people with disabilities or who use service animals because they are rude. It could simply be a matter of informing them about the best ways to accommodate disabled individuals.
What has your experience been with ridesharing companies? Have you found them to be more or less helpful now that people with disabilities are advocating for equal access? Would you use or recommend them to others? We'd love to hear your thoughts! Please send any questions or comments to sandysview@chicagolighthouse.org. Thanks for reading!