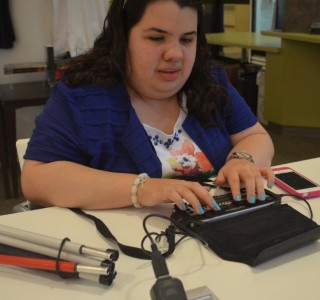 What Are Some of the Assistive Technology Products That Can Help College Students?
Now that you've made all the necessary arrangements for a successful transition to college, it's time to look at some of the tools that can help you as a blind or visually impaired student. I spoke with Luke Scriven and Roosevelt Bradley from our Adaptive Technology Center at The Chicago Lighthouse to learn about the latest and greatest technology that can help students reach their goals and eventually obtain that well-earned and deserved college degree! The devices discussed below give us examples about some of the many things students can accomplish with assistive and mainstream technology.
Reading textbooks and lecture notes or even viewing things from a distance can be challenging for students with low vision. Many portable cameras and magnifying devices can help. Some of these include the VisioBook from Baum Retec and the MagniLink Zip manufactured by Low Vision International. These devices allow students to read lecture slides in the classroom, view pictures or other information from a distance, and so on. Users can easily adjust the focus and even the contrast colors to have a better viewing experience. The Mars HD portable magnifier made by Zoomax has the additional capability of connecting to a laptop or other computer. These devices are portable and can easily fold up so that students can take them wherever they please.
If you are more of an auditory learner, many new portable devices can help you keep up with your reading. The Blaze EZ is made by Hims Inc. This digital player allows students to listen to books, music, podcasts and other documents and publications. It also has OCR capability – students can snap a picture of a print document and the device will read it out loud.
Blind students might wonder how they can take notes or read documents and textbooks in Braille. There is quite a variety of devices to choose from now more than ever! Also from Baum Retec comes the VarioUltra, a portable Braille display and notetaker which supports up to six connections with smartphones, tablets or computers. Students can read what's on their iPad and laptop without needing to connect and disconnect each device separately. This is the device which appears in the photo above, and as you can see it is very portable!
The Braille Sense U2 manufactured by Hims, Inc. is a Braille notetaker which also includes a digital player and calculator, among other features. Popular programs such as Microsoft Excel and PowerPoint are also supported by this device. Additionally, students can connect to the Internet and share files on Dropbox with their professors.
Mobile apps have also changed the way in which blind and visually impaired students access information. The KNFB Reader App works on iOS devices, and allows blind students to take a picture of a print document. It reads documents out loud in a matter of seconds. Similarly, the BARD Mobile app allows eligible individuals who receive audio and Braille books from the Library of Congress to download them onto their phone or iPad. BlindSquare is an excellent GPS app for those times when students want to get more familiar with their college campus or simply explore town!
Roosevelt says that one of the biggest innovations nowadays is the fact that any blind student can go to their local store and buy devices that have built-in accessibility. Such is the case with Apple's iPad, iPhone and Mac. These devices come with accessibility features to assist those with visual impairments, and do not require specialized software or devices in order to work. Microsoft's Surface tablet is also highly accessible to blind and visually impaired individuals, and is another great option for taking notes.
This is just but a handful of the many assistive technology devices that allow blind or visually impaired students to keep up with the rigors of college. They can be of tremendous help when combined with other support services and the desire to succeed. For more product and other technology news, visit the Chicago Lighthouse technology blog.
Did you use assistive technology in college? How did it help? As always, please email any post suggestions or comments to sandysview@chicagolighthouse.org. Have a great weekend!