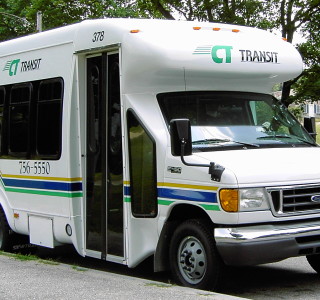 Are There Alternative Transportation Options for Blind or Visually Impaired People?
Thanks to the ADA, people with disabilities have more options when it comes to public transportation. While buses and trains – especially those in larger cities – have become more accessible for blind and visually impaired individuals, certain circumstances might prevent us from using these for some or all of our trips. Paratransit is a curb-to-curb, on-demand shared-ride service for people with disabilities. In most cases, this is a complimentary service to regular fixed rout bus and train systems.
People are eligible for paratransit services if they have a physical, visual or cognitive disability that prevents them from using the fixed-route system some or all of the time. These conditions include mobility and visual impairments, blindness, intellectual disabilities, and other health conditions that may lead to disability. The nature of each disability is different, and this is why each person is evaluated individually when applying.
In order to qualify for paratransit services, people must fill out an application and in some cases complete an interview and assessment. This helps determine their eligibility for paratransit. Note that only disability and health related conditions are assessed; financial circumstances are not a determining factor.
Once someone is found eligible for paratransit, he or she will have eligibility under one of the following categories:
Unconditional – a person can use paratransit rides for all of their trips.
Conditional – the person can only use paratransit for some of their trips. If someone's health condition worsens during winter, then he might only be eligible to use the service during this time.
Temporary – the person has a health condition or disability that is temporary. A good example of this is someone who is recovering from an orthopedic surgery, and therefore is temporarily unable to use fixed-route transportation.
Generally, riders have to be recertified for paratransit at least every three years. This is to make sure that the person's health condition or disability has not changed. The regional Transportation Authority (RTA) of Chicago, for instance, requires paratransit riders to be recertified every four years using the initial certification process.
Under ADA regulations, Paratransit services should be provided in regions where regular, fixed-routes are available within three-fourths of a mile of your location. You can be picked up and dropped off by paratransit even if you live right across the street from a public bus stop. Additionally, paratransit services must be available at the same times and areas where fixed-route systems operate. If, for example, the first public bus arrives at my nearest bus stop at 5 a.m., then I should be able to request a paratransit ride for that time.
Since paratransit is a door-to-door service, riders must request pick-ups and drop-offs usually one day in advance. Each region has a designated number and time period when people may call to request rides. Generally, riders will be asked for (1) their pick-up address and time, (2) their destination address, (3) if they would like a return trip and (4) the pick-up time and destination address for the return trip. The ADA requires that riders be given rides within one hour before or after their desired pick-up time. If I wish for a pick-up at 8 a.m., I am guaranteed to be picked up some time between 7 and 9 a.m. Passengers are usually given their pick-up time when they call to schedule the ride.
The fare for each ride depends on each transportation region, and is at least the cost of the lowest price passengers pay in the fixed-route system. Each paratransit ride costs $3.00 in the Chicago region. Riders can use paratransit to get to medical appointments, work, school, the mall, movies, etc. The service can be useful for blind and visually impaired individuals when going to unfamiliar places and traveling to school or work.
As a frequent paratransit rider, I can appreciate the importance of this service for people with disabilities. However, I believe there is still much more to do in order for it to give us more flexibility and independence. I hope to see a day when riders don't have to schedule their rides well in advance; more technology and resources should be made available so that we can schedule within a short period of time. Public fixed-route transportation systems offer great accessibility and flexibility for people with disabilities to get around, but paratransit services may also be a great resource. Each state has different rules, so people should first find out more about the process in their respective location.
How have paratransit services helped you be more independent? Many of us often criticize the service because of things such as lack of flexibility in scheduling, late pick-ups, etc. Have you seen any improvements in the last few years? What else can be improved? Please comment below, or send an email to sandysview@chicagolighthouse.org.
Back to top