Youth Transition Program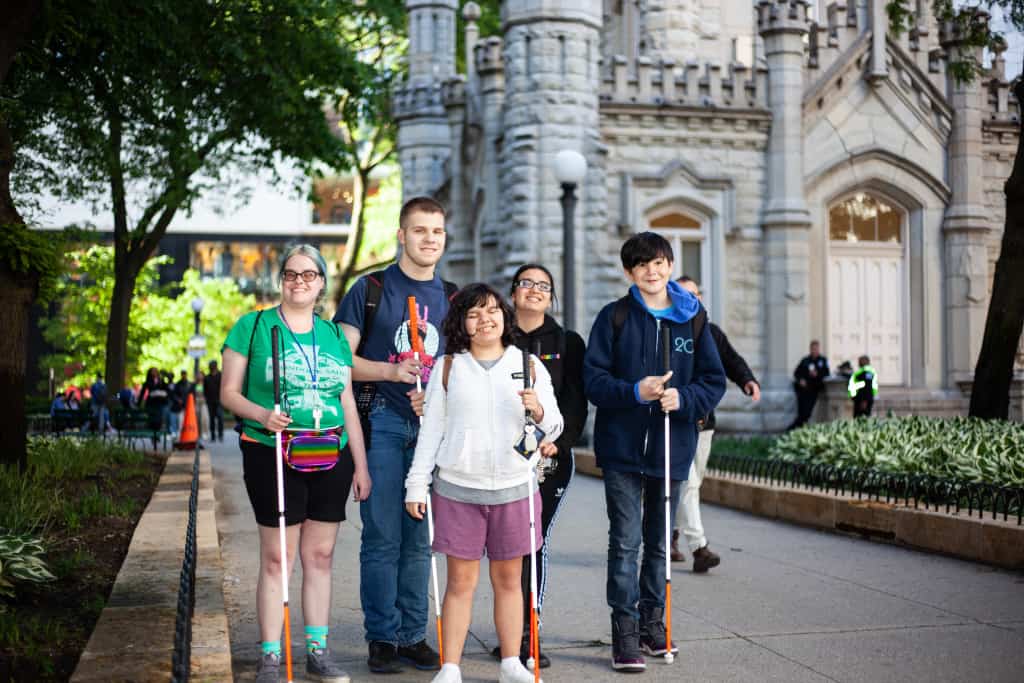 About
At The Chicago Lighthouse, we create a nurturing environment that supports people who are blind and vision impaired in all areas of life. Our Youth Transition Program provide teens and young adults (ages 15 – 24) with the tools they need for independence. We host a variety of experiences designed for youth who intend to live independently, seek competitive employment, and/or attend a vocational training program or college upon graduation from high school. We'll work with each participant to address his or her individual needs and challenges.
Upcoming Events:
Career Fair for Students who are Blind or Low Vision
A unique opportunity to interact with business leaders, successful adults who are blind or low vision and recent college grads who are blind or low vision to assist in your exploration of career possibilities and networking.
Monthly Enrichment
Monthly Seminars provide a critical supplement to students' high school learning. This series of monthly seminars covers topics of particular relevance to youth with vision disabilities, such as, money management, scholarships, skiing and more. Each program is an opportunity to build social and vocational skills, along with lasting friendships. These seminars extend the Youth Transition Program beyond the summer. For more information, please contact Employment Services, (312) 447-3251, employment services@chicagolighthouse.org 
First Jobs Program
5 week paid internship to follow*
Combines virtual learning, on-site orientation and paid work experience
Participants will learn about topics including resume writing, interview skills, career planning, disability disclosure, nonverbal communication skills, self-advocacy and conflict resolutions
Following training, students will complete a 5-week paid internship (20 hours/week) with the possibility for competitive employment with reputable companies
*As permitted by CDC guidelines for safety during COVID-19
---
Summer in the City (SitCity)
A 5-night/6-day experience helping youth with vision impairments to build confidence, independence, and life-long friendships.
Students attend classes in technology, health and fitness, communication, and daily living skills
In-person session offers the opportunity to explore all the excitement Chicago has to offer, such as theatres, sports venues, restaurants, and boating*
*As permitted by CDC guidelines for safety during COVID-19
---
Photography for All (CPS Students only)
6 week in-person and remote paid instruction to follow*
An opportunity for youth with vision impairments to explore their creative passions while gaining vocational skills
Participants will travel throughout Chicago to take photographs with iPads (provided)
Apple engineers will provide in-depth training on using iPad accessibility features
Virtual training session covers topics including resume writing, career planning, disability disclosure, nonverbal communication skills, self-advocacy, conflict resolution, and interview skills
Youth will also participate in the Chicago Youth Service Corps, providing the opportunity to build relationships, leadership, and life-skills
*As permitted by CDC guidelines for safety during COVID-19
---
For more information, please contact:
Shelle Hamer
(847) 508-0600
shelle.hamer@chicagolighthouse.org
Back to top