Your Vision Needs Are Unique to You. Your Devices Should be Too.
Just as people have different degrees of vision loss, they also have individual goals to accommodate that vision loss. Where one person may want to emphasize their ability to read the newspaper, others may be interested in finding ways to better navigate independently.
As a result, the search for assistive technology to accommodate those goals can be daunting. There are thousands of products available and little direction as to which devices are best for which goals. Little direction until now, that is.
This February, The Chicago Lighthouse is launching its new, comprehensive online Tools for Living store. With advanced features and a recommendation engine that aligns products to goals, the new site is designed to provide individualized answers to patients' questions.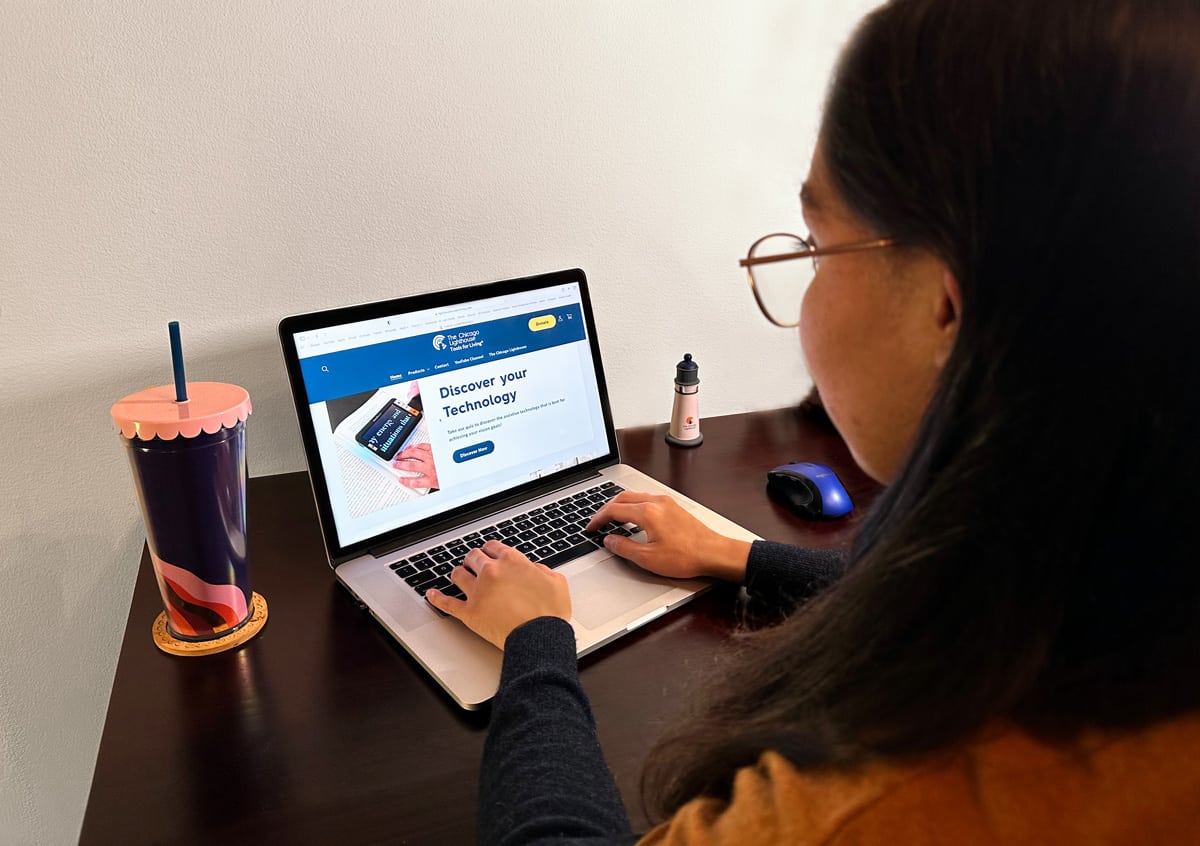 Woman uses the new Tools for Living store website on her laptop
"Vision care does not accommodate a 'one-size-fits-all' approach," said Dr. Kara Crumbliss, Senior Vice President of Clinical Services at The Chicago Lighthouse. "Our new 'Tools for Living' online store helps patients find the devices specific to their needs and what they want to accomplish. From simple magnifiers to smart canes that use internet connectivity to provide directions, the Tools for Living e-commerce site has what patients are looking for, wherever they are."

Screenshot showing the quiz on the new Tools for Living website
Accessible at www.lighthousetoolsforliving.com, the new site features a quiz in which users can input their goals – including near field vision and reading, middle-distance vision and navigation – and receive a list of products best suited to achieve those goals. The new site also contains 14 product demonstration videos (with more in the works) and a "My Tools Tips" blog featuring articles – including how to make computers with different operating systems more accessible — authored by The Chicago Lighthouse's assistive technology professionals.
"The new Tools for Living e-commerce site is designed to demystify the process so people with vision impairments can live the lives they envision. And, because its online, it can be accessed at any time, from anywhere," said Patrick Andrade, Assistive Technology and Accessibility Manager at The Chicago Lighthouse.

Screenshot showing the featured products on the new Tools for Living website
Best of all, on The Tools for Living e-commerce site, customers can benefit from pre- and post-purchase consultations from The Chicago Lighthouse's Assistive Technology experts, ensuring users are getting the most out of their devices. For those who have questions while shopping, The Chicago Lighthouse provides free phone consultation to help guide users through their decision-making and purchase process.
Back to top