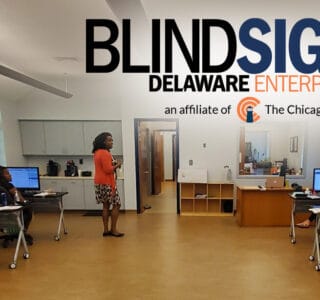 New Partnership Presents New Opportunities
Since 2013, The Chicago Lighthouse's social enterprise Call Centers have helped hundreds of people who are blind or visually impaired throughout Chicagoland find jobs and build meaningful careers. The social enterprises have proven themselves to be a successful model to not only create opportunities but to help sustain many of our other social service programs.
In June 2021, The Chicago Lighthouse and BlindSight Delaware officially launched BlindSight Delaware Enterprises (BSDE) Inc., to expand employment opportunities for people who are blind, visually impaired, disabled, and Veterans in and around Delaware.
"Our hope is to be able to work with the local business community to communicate the value people who are blind, visually impaired, disabled, and Veterans bring to the workplace," says BSDE Executive Director Loretta Harper-Brown. "It's not just us creating jobs, it's us helping our clients to develop independence & self sufficiency."
The partnership developed when Loretta, in her capacity as Executive Director of BlindSight Delaware, was looking to diversify the organization's revenue sources. "We live in a small state of only three counties, and there are all these nonprofits going after the same grant money," she says.
After speaking with board members and other advisors and business leaders from the area, Loretta determined that BlindSight Delaware needed a social enterprise that could earn revenue to support its social programs. Through the American Federation for the Blind, Loretta was made aware of The Chicago Lighthouse's Call Centers. Over the course of several phone calls and meetings with Lighthouse President and CEO, Dr. Janet Szlyk, a partnership was born.
"BlindSight contacted us at exactly the right time," says Dr. Szlyk. "Since the pandemic, we have been exploring the idea of expanding our opportunities to other geographic areas through remote technologies. The BlindSight Delaware Enterprises partnership was a way to bring that to life."
In September, five Call Center agents began working for BSDE Inc.'s first Call Center client, IMAN Community Health Center. They are currently on the hunt for more businesses as they look to grow the partnership.
For more information or to refer new business, please call Kathy Stoeberl at (312) 997-3665
Back to top