Hope is Just a Phone Call Away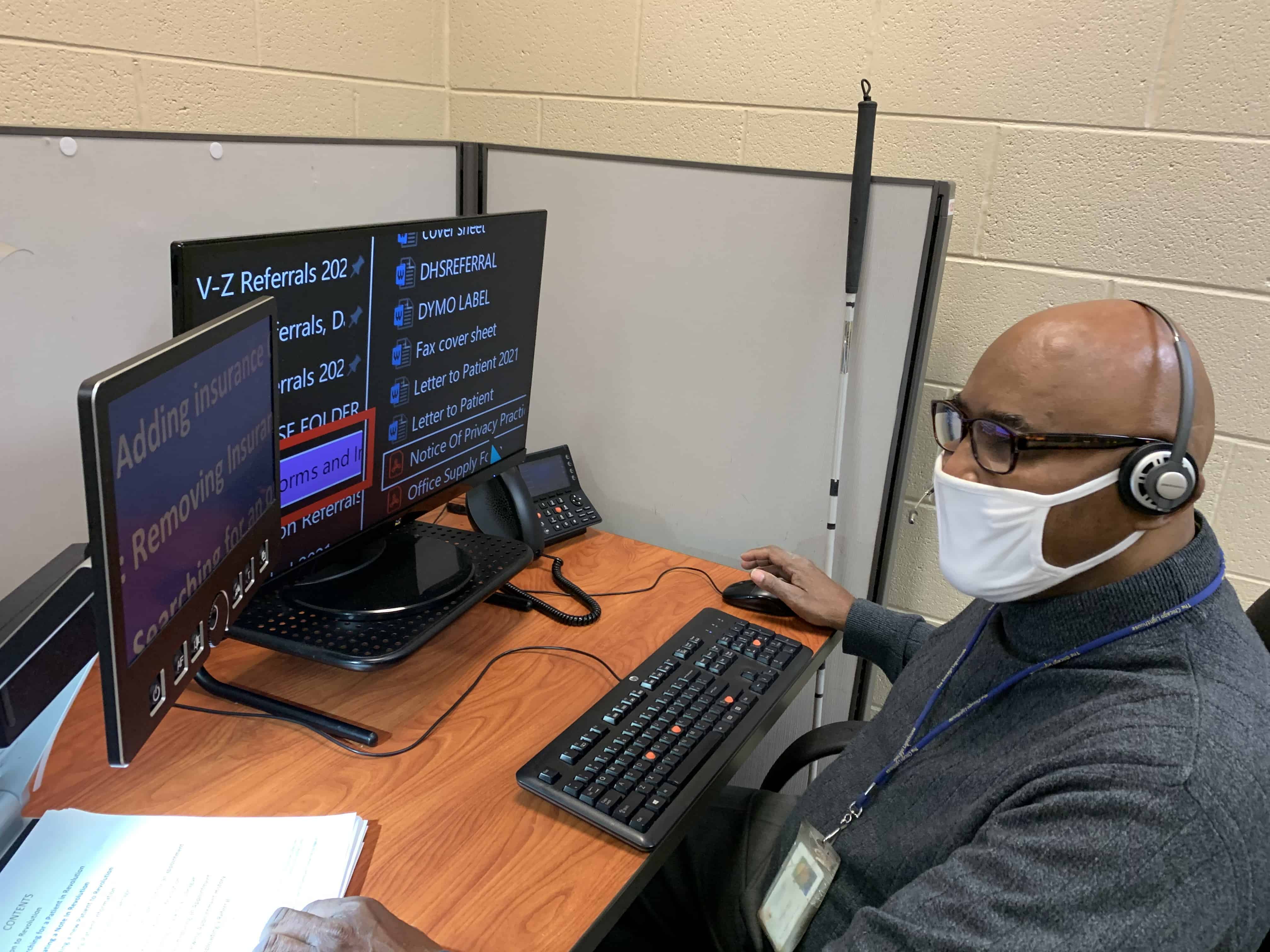 Joseph uses his own experience of vision loss to provide empathy and a sense of optimism for new patients of our Low Vision Clinic.
A patient's journey with The Chicago Lighthouse doesn't start when they walk through the doors of our Low Vision Clinic. It first begins with a phone call.
Often, patients are referred to low vision rehabilitation services at The Lighthouse after receiving a diagnosis that impacts their visual function. Many see making that initial call for an appointment as facing the reality of their vision loss. This can be a frightening time. Fortunately, there are kind voices on the other end of the line to change that narrative by sharing encouragement and connecting them to resources that can help them continue to live independently. Call Center Representative Joseph knows firsthand that a happy, independent life is possible after vision loss, because he's lived it.
Many years ago, when Joseph was working as a forklift operator, he noticed that he was starting to make some strange mistakes. Every now and then he would hit or bump into something. Then it started happening more and more. He became alarmed when large objects, such as a pole, would disappear from his view. He made an appointment with Dr. Gerald Fishman, retired physician of our Pangere Center who at the time was practicing at the Illinois Eye and Ear Infirmary. Dr. Fishman diagnosed Joseph with retinitis pigmentosa, an inherited degenerative eye disease that causes severe vision loss.
Joseph recalls the trauma he experienced when he received this diagnosis and realized that his vision would continue to deteriorate. However, he decided to not let his vision loss define him. He switched careers, eventually becoming a successful traffic coordinator. He continued to support his family. He began volunteering with a gang prevention program of his church, where he supported youth who came from challenging home situations.
It's all of these experiences that Joseph now brings into his role at our Low Vision Call Center. He sees his position as more than a job, but an opportunity to make a difference in people's lives. "I enjoy talking to people that are like me.  I can identify with what they're going through," he says. He's come to recognize the nuances in someone's voice when they're in distress and in need of more than general information. That's when he shares some of his story to provide even more compassion, empathy, and optimism.
Anne is one of those callers. Anne was referred to The Lighthouse by her ophthalmologist after being diagnosed with macular degeneration. When Joseph answered the phone, he could sense the apprehension in Anne's voice. "I was not happy about my condition. In fact, I was scared to death," says Anne. "When I spoke with Joseph, I knew right away that I could trust him. He told me 'I understand. We can help you.'" Joseph worked quickly to get her an appointment with one of our optometrists before she could change her mind about coming in. He told her about the various classes that could help her with tasks such as driving and using technology, glasses and magnifiers that would benefit her, and recreational classes that she could attend. Anne called him back many times leading up to her appointment, and each time he addressed all of her questions and concerns.
Anne was so touched by the help she received from Joseph that she requested to thank him in person after her appointment. When she saw him for the first time as he entered the room with his white cane, Anne immediately felt like she was going to be alright with her vision loss. "He was dressed beautifully in a suit. His stature was perfect. I saw that he had confidence in himself – and that I, too, can regain the confidence that I was losing and go on with the vision I have."
"I find that that's what people need," says Joseph. "If you have somebody encouraging you and telling you something can be done, and then you hear that they themselves are doing it, it makes you realize that life goes on and you can live with your condition. That's the greatest thing about my job, giving people hope."
Back to top