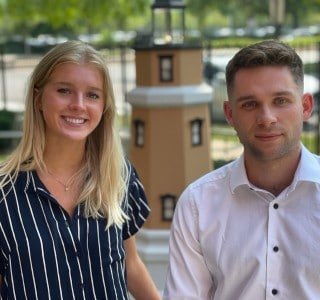 Meet our Summer Interns
Launching careers and teaching future leaders about the importance of advocacy for access and inclusion have always been two guiding principles at The Lighthouse. This summer, we welcomed two interns. Adam, who comes from Whitman College in Walla Walla Washington, is a political science major. Emily comes from the University of Michigan and is majoring in computer science. The hands-on experience they received will last a lifetime and help many generations to come.
Hear about their experiences by watching their interviews below or reading further.
A senior in college, Adam is passionate about government and public policy. Adam has always wanted to learn more about disability advocacy, so he knew an internship with The Lighthouse was a perfect fit to get the experience that will help him in his future career.
"As someone who is studying public policy and is passionate about government and learning more about disability advocacy, it's extremely valuable to work in a setting like this." he says.
Adam's internship went far beyond doing research and drafting memos. He had the unique opportunity to work closely with Lighthouse staff on finding new ways of collaborating with the state and other entities to further support the disabled community.  In addition, Adam was able to diversify his writing skills beyond college essay writing by working with our public relations and grants teams. At The Lighthouse he learned the importance of using his skills and passion to help others. All of these skills will help him reach his goal of working in government.
Emily hopes to work in website design and user interface, but  prior to coming to The Lighthouse she was not familiar with digital accessibility. Along with assisting our creative department with many of our design and website initiatives, she got the unique opportunity to work closely with our Digital Accessible Experience (DAX) team. One of the most memorable experiences to her was being able to use accessibility programs herself such as screen readers and magnifying software to navigate websites. These experiences were so enlightening that she is already using what she learned to make her communications accessible.
"Accessibility really isn't something that's taught. Things like remembering to put alt-text in your icons, and how important it is to use title and heading structure in a document, that was all new to me," Emily says. She adds that these are things she will always remember to incorporate in documents, websites, and all other digital content she develops and designs.
Emily also got to work on some fun projects, including designing a new, fun "5 o'clock somewhere" clock for our Industries Department, which is currently for sale on our website. She also got to be The Lighthouse's mascot Ray L. Beacon for a day!
Emily posed as The Chicago Lighthouse's mascot for an internal employee event–an example of her willingness to step in wherever needed. She is pictured with her two supervisors, Phil Yatvin and Lisa Birmingham.
We wish both Adam and Emily success as they finish college and move on to their careers. With the experiences they gained, they will always be advocates for our community.
By the way, what advice do they have for future interns? "Ask as many questions as possible. Almost everyone has been in your shoes before, and everyone's willing to help."
Back to top