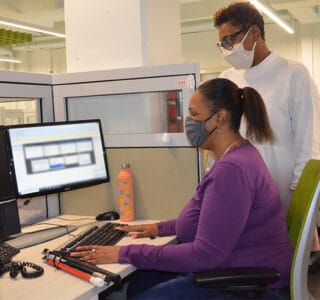 Greater Accessibility Creates Greater Opportunities
Starting any new job can be intimidating, and it can be even more so if you haven't been in the workforce for more than 20 years. And it can be even more challenging if you have lost your sight in the interim.
Such was the case for Kimberly, who was a member of our first trainee class to begin using an update of popular medical scheduling software Epic that has been optimized for users who are blind or visually impaired. Created as a result of our partnership with UI Health, and with assistance from our Digital Accessible Experience consulting team, the software update means our Call Center agents who are blind or visually impaired can help schedule appointments and collect patient histories. Previously, users with visual impairments could only provide basic information.
"The training was a lot of information, but we got a lot of time to learn and practice," Kimberly says. "It was intimidating at first, but the trainers did a great job of encouraging us."
"In the beginning, everyone is frustrated because it's hard," says Kendra, who, after six years working as an agent in our UI Health Call Center, was promoted to Accessibility Support Specialist this past January. As she trains people like Kimberly on the newly accessible software, Kendra, who is blind, often draws on her own experience spending extra hours outside of work mastering the software and its accessibility features.
"I'm able to let them know that I, too, have been there before and made it through. That encouragement motivates them to push forward and share what they learned with their teammates," says Kendra. "I enjoy seeing the reactions of my trainees once they learn the software."
For Juan, who has been working in the UI Health Call Center since September 2020, the ability to schedule medical appointments has been nothing short of life-changing. After having been told he would never find stable employment because of his visual impairment, Juan is now at his "dream job" with endless potential in front of him. "I thought this chance would never come because of my disability," he says. "I am extremely thankful that these new opportunities are opening up for people with visual impairments, and I hope it keeps going."
Juan's hope is contagious. Ben Chargot, a UI Health Team Lead who is blind, says the new features enable him to be of greater assistance to his team, because he can now troubleshoot problems without requiring the assistance of someone sighted. Now, Ben is able to envision a time when some of his new trainees will have the opportunity to lead their own teams.
"The higher up people with disabilities can get into leadership roles, the more influence we will have in implementing accessibility and keeping it in the front of everyone's minds," Ben says.
Back to top