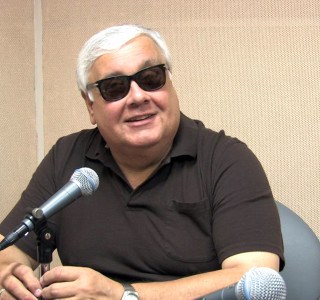 Director Emeritus of CRIS Radio William 'Bill' Jurek Passes Away
William 'Bill' Jurek, director emeritus of The Chicago Lighthouse's CRIS Radio and host of "The Beacon" radio show, passed away this weekend following a prolonged illness.
Bill, 67, who was totally blind, was a veteran and respected Chicago broadcaster who formerly served as a staff announcer at NBC 5 and a contributor to WLIT-FM and many other media outlets.
"The Lighthouse has lost a great friend and a great talent," said Dr. Janet Szlyk, Lighthouse President & CEO.  Dr. Szlyk noted that  Bill served as the visionary of our CRIS Radio program, a radio reading service for people who are print impaired, since his retirement from NBC Radio nearly a decade ago.
He also produced and hosted "The Beacon," the only advocacy show on the radio for people with disabilities.
"The Lighthouse's Beacon, was Bill's brainchild and it lasted for eight years. Our plan is to revive The Beacon Show in memory of radio pioneer Bill Jurek," she stated.
Noting that Bill lost his sight in mid-life and faced many significant challenges, Dr. Szlyk observed that he always maintained a positive attitude and had a kind and generous heart.  That generosity extended to his adoption of three sons:  Joe, Nick and Michael.
"Bill was an uplifting influence for all. He will be missed!"
His passing was covered by Rob Feder, the city's top radio and TV columnist.
Visitation will take place this Friday, September 8, from 3:00 until 9:00 p.m. at the Cumberland Chapels, 8300 W. Lawrence Ave., Norridge.
Family and friends are asked to meet at 10:45 a.m. this Saturday, September 9, at All Saints Cemetery (at the office building), 700 N. River Rd. in Des Plaines for an 11:00 a.m. service and Entombment.
Back to top