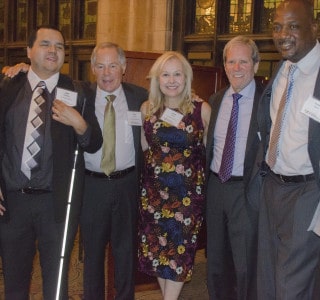 Lighthouse Helps Sponsor 8th Annual Celebration of Diversity
The Chicago Lighthouse was pleased to help sponsor Barnes & Thornburg's 8th Annual Celebration of Diversity on August 15.
Held at the University Club in downtown Chicago, the event paid tribute to several prominent community leaders for championing the causes of social justice and equal opportunity.
Among those recognized was the Reverend Jesse L. Jackson, Sr., one of America's foremost civil rights, religious and political figures.
Each honoree received a special Chicago Lighthouse clock featuring an image from our Board member Larry Broutman's recent book, Chicago Monumental.
Mr. Broutman was joined by another Lighthouse Board member, Cook County Commissioner Richard Boykin, in presenting the award to Rev. Jackson.  Commissioner Boykin is also a partner at Barnes & Thornburg who first proposed that the firm host a "Celebrate Diversity" dinner and awards program eight years ago.
In addition to Mr. Broutman and his wife, Susanne, The Lighthouse was represented at the event by Board Chair Gary Rich, President and CEO Dr. Janet Szlyk, CFO Mary Lynne Januszewski, Senior Vice President Dominic Calabrese, Special Projects Consultant Terry Longo, IT Vice President Ricardo Vilchez, Robin Barker, Supervisor of the Cook County Call Center at The Lighthouse, and new IT staff member Jose Martinez.