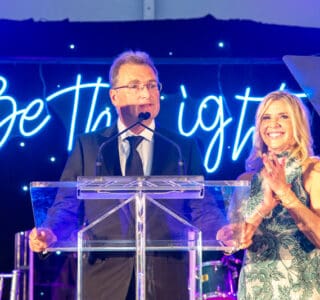 Building a Vision
Thanks to a significant and generous gift from Board Member David Huber and his wife, Nancy, we can provide low vision services for countless individuals through our Glenview facility, 
Longtime Board Member and donor David Huber has a deep connection to The Lighthouse's mission, as he experienced vision loss due to a detached retina. His empathy with the visually impaired community inspires his involvement with our organization.
As a testament to Dave's dedication to advancing our work, he and his wife, Nancy, made a significant gift to our Glenview facility, Chicago Lighthouse North (located at 222 Waukegan Road). Lighthouse North will now be named "The Chicago Lighthouse Huber Vision Rehabilitation Center" in his and his family's honor.
For Dave, this wonderful gift is his way to help countless people receive the low vision care and rehabilitation to maximize their remaining vision and live independently. "As someone who is visually impaired and was still able to establish his own business, I know first-hand what people with disabilities can achieve, if given the resources and opportunities to do so," he states proudly.
Back to top