Construction Update
Please note important logistical changes as we begin construction on The Foglia Residences at The Chicago Lighthouse.
The front entrance on 1850 West Roosevelt is CLOSED.

CDC Entrance remains the same.

The new entrance is located at 1143 South Wolcott, Chicago, IL 60612

This is where PACE and taxis should drop-off/pick-up
You can find this address by also searching the Beatrice Cummings Mayer Senior Center.
Mailing Address remains 1850 West Roosevelt

Playground is CLOSED.
ADA parking is available along Grenshaw Street, in the rear of The Lighthouse building.
Front parking lot is CLOSED. The Lighthouse does not have parking available for visitors during construction. Here are some parking options:

UIC Wood Street Parking Structure (right behind our building)
Metered street parking available in the area (read signs to verify)
Juvenile Detention Center parking garage on the corner of Roosevelt and Ogden

For detailed pedestrian pathways, click here.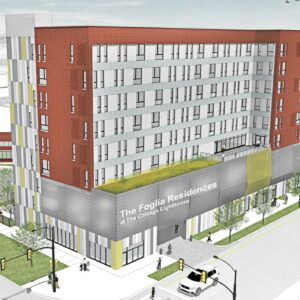 Back to top