More than Just a Game: Beep Ball Provides Freedom and Confidence
April 18, 2019
A player steps up to the plate, bat in hand. She waits in anticipation for the first pitch, listening intently. While she can't see the ball, she knows it's coming her way through a beeping sound it makes. Coordinating sound and motion, she hits the ball just at the right moment and run towards first base, all without having vision.
Beep ball is a sport designed for individuals who are blind or visually impaired. Athletes in this sport rely on their hearing to know when to swing and hit the ball or where to play in the field. Kalari, an employee of our UI Health Customer Care Center, has been playing beep ball for over twenty years. Due to her great expertise and talent for the sport, she recently received a grant from the Challenged Athletes Foundation to help cover the costs of traveling for games. (She can be seen receiving the grant in this segment on beep ball released by MLB TV) Kalari shares the impact beep ball has had on her and how it empowers others who are blind or visually impaired.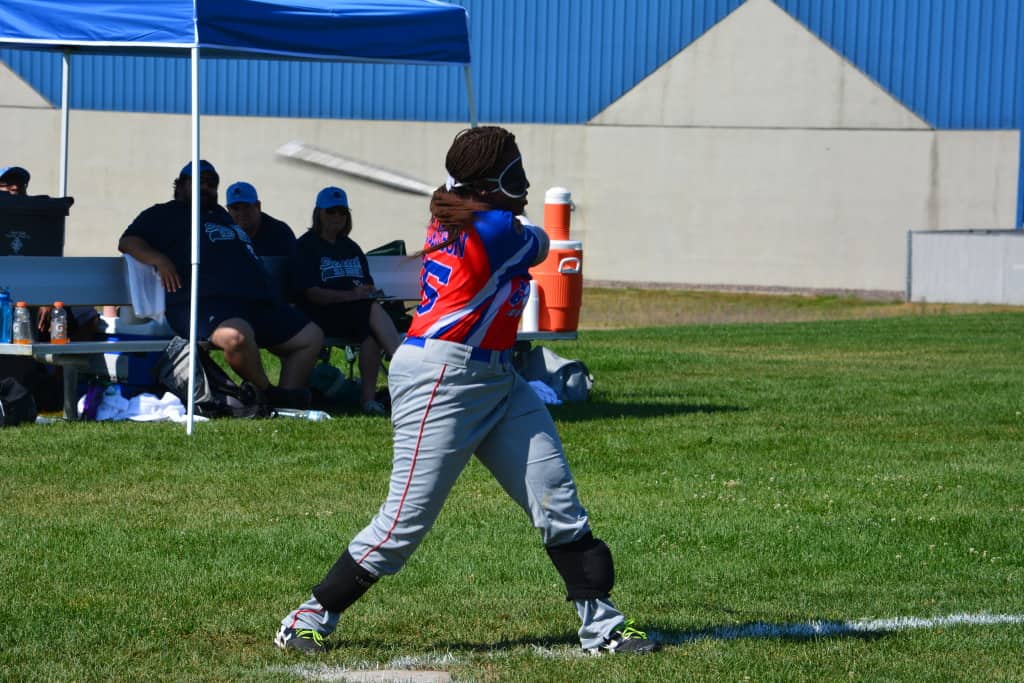 Kalari has been playing beep ball professionally for 20 years
For someone who's not familiar with beep ball, can you explain how it's played?
In beep ball, the ball beeps and the base buzzes. The base is about 4 ft. tall and it has a soft padding around it so when you hit it, you will have a soft landing. Every player is blindfolded to put everyone on the same level visually. There are two spotters on the field. They are sighted and work with the team. They call out different zones on the field which helps the defender to cover that area. They also watch out for possible collisions. The pitcher and catcher are both sighted and they play on the same team as the batter.
How did you get involved in beep ball?
When I was six years old, I lost my vision. I had an excessive water build-up on my optic nerve and it damaged my eyesight and I lost 90% of my vision. So I was a very angry kid, because I could see but then all of a sudden I was blind. I could only see blurs and light, and I wasn't understanding what was going on. When I was nine years old, a man named Tom that I met through the park district introduced me to beep ball. I already had a baseball background because both my parents played softball, so I already knew the basics of baseball. In beep ball I was able to swing a bat and tackle a base, which helped me get a lot of my anger out. And it also gave me the opportunity to run. As a kid you like to run but after I lost my vision my parents were kind of overprotective. But in beep ball, being encouraged to run was just great. I fell in love with the sport at nine and I've been in it ever since.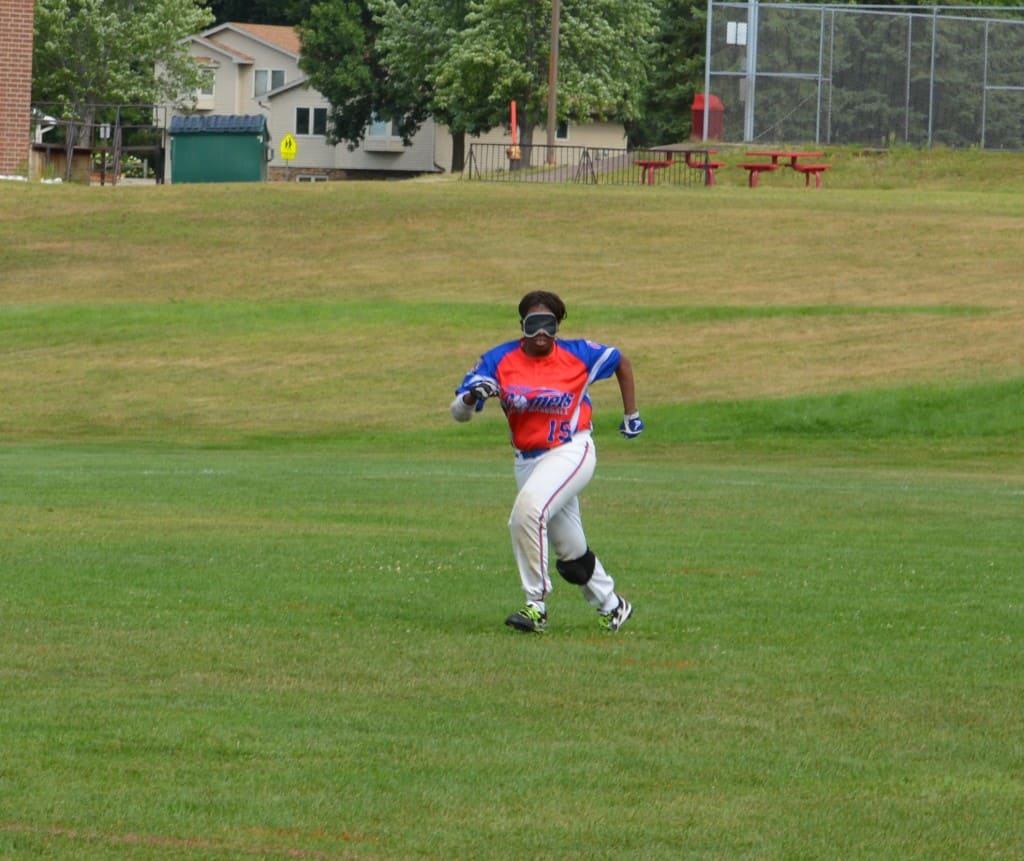 "In beep ball, being encouraged to run was just great," says Kalari
How did it feel when you first started playing beep ball? Did you have any fears of playing without vision?
It was amazing. It felt like heaven. It was just that freedom of just me, my teammates and the ball – it's just complete bliss that I feel out there. People always love me because I always have a big smile on my face because I'm just soaking it up. Beep baseball has been there for me through everything. Every summer it comes for me and helps me through my ups and downs.
I think the only fear I had when I started was walking and running around with my blindfold. I have a little vision and often rely on the little vision I have to get around. When I placed on the blindfold, I was completely blind. I had to get used to moving around completely in the dark. I also had to get over the fear of running into something. I kept thinking there was something in front of me so I would not run as fast right away. I dealt with this fear for only a short period of time and then I began to excel in the sport.
What's it like to play at a professional level?
I started playing professionally with The Chicago Comets when I was 16. It's almost been 20 years and I've traveled all around the country. I have friends all over and it's just been a really great experience and opened a new world for me, so that's why I say beep ball saved my life.
The first tournament that The Chicago Comets will be going to is the Indianapolis Tournament, which is the first weekend in June. Teams from all over the country compete in our tournaments, so you get to see beep ball competed at a high level. It's very competitive. These are fierce athletes we're dealing with here. Off the field we're like a big family, but on the field they're our enemies!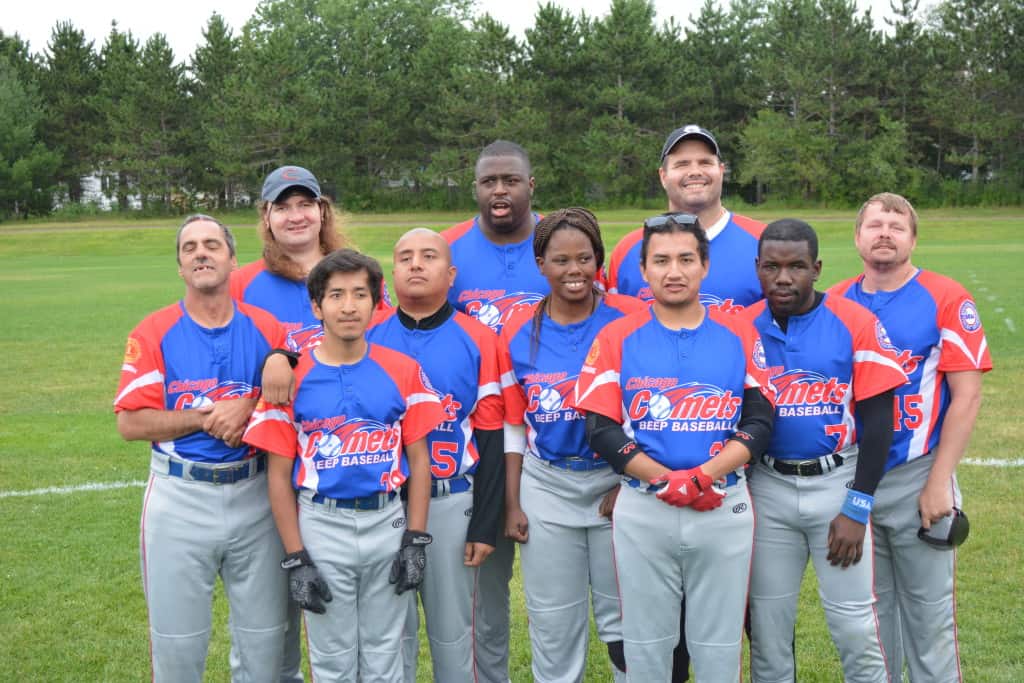 The Chicago Comets compete against teams from all over the country
Are there currently any opportunities for others to get involved with beep ball?
We're always trying to get more people out. I'm always trying to get more players so they can get that same experience I have received. When you are blind, a lot of times you are sheltered from certain experiences. We're always looking for youth as well. It's just a great opportunity to play and also travel.
If you'd like to learn more about beep ball, including how you can join or start a team, please visit the National Beep Ball Association website.