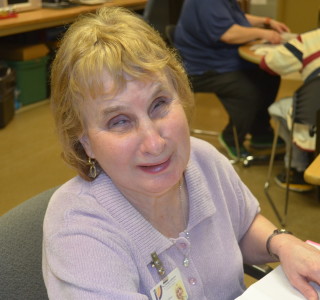 Women's History Month: Profile of Katie Howe, Braille Instructor
In observance of Women's History Month we are profiling several outstanding women who have made unique contributions to The Chicago Lighthouse since it was established 110 years ago. This one showcases Katie Howe, a Braille instructor who will observe her tenth anniversary as an employee of The Lighthouse this August.
"You look too young to be a grandmother!"
That is the common response most people have when she mentions that she is a grandmother of seven children.
Her youthful appearance, however, belies the energy and enthusiasm she brings to The Chicago Lighthouse every day.
A resident of suburban Blue Island, Katie Howe has been a welcome presence at the organization since she was a participant in our secretarial training program back in 1975.  Katie is also a longtime member of the Lions and currently serves as president of the Central Chicago chapter.
"I have always loved The Lighthouse and all the wonderful people here," she smiled.
Totally blind since childhood, the Dubuque, Iowa resident first came here to learn the skills that hopefully could lead to full-time employment.
What she found was a life-changing experience!
"With assistance from Jim Kesteloot, former Lighthouse executive director who was my job placement counselor at the time, I landed my first position in the Chicago regional office of the old Department of Health, Education and Welfare (HEW)," Katie recalled.
"When Jim and I greet each other in the hallway, we laugh and joke that we are two old-timers," she chuckled.
Katie went on to other jobs, but ultimately returned to The Lighthouse and became a Braille instructor in 2006.
In the past decade, she estimates that she has helped about 40 individuals master the craft, which is no small feat given the intensive nature of the process.
"We emphasize that Braille is another way to communicate," she maintains.  "I also strive to show empathy and compassion for my clients, most of whom have just lost their vision or are coping with other disabilities."
One of her recent success stories is acclaimed writer and University of Chicago professor Rachel DeWoskin who did background research at The Lighthouse for her novel, "Blind," the story of a teenager who loses her sight in a freak accident.  As part of her work on the book, Ms. DeWoskin wanted to learn Braille so she could identify with her lead character.
"Katie was an amazing teacher," she exclaimed.  "I found her to be extremely helpful and she did so much to boost my own self-confidence in learning what was for me, a whole new way of communicating."  Ms. DeWoskin added that she would refer others to Katie for Braille instruction in a New York minute!
In addition to the kudos she has received as an instructor, Katie is also a talented vocalist who often performs at weddings, funerals and other special events.  She has even sung at The Lighthouse's annual holiday party.
With her upbeat attitude and zest for life, Katie has become a role model for others.
She enjoys taking part in many of the activities offered by the organization, including the summer yacht cruises, outings to the Chicago Symphony and parties.
"The Lighthouse has helped make us realize that we have so much in life to live for," she smiled.