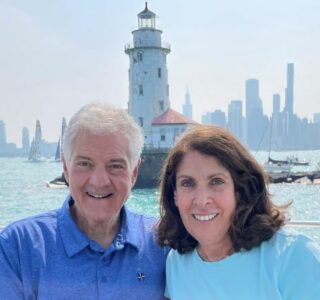 Nick and Nancy Berberian: Sailing Towards a Brighter Future
As a former Commodore of The Chicago Yacht Club, Nick Berberian knows the immense delight and excitement people experience when they spend an afternoon on Lake Michigan, and he has been dedicated to spreading that joy. For more than a decade, Nick and his wife, Nancy, have generously provided the use of their boat for The Chicago Lighthouse's annual Seniors and Youth Transition Program afternoon cruises.
Over the years, Nick and Nancy have been impressed with The Lighthouse's wide range of programs for people who are blind, visually impaired, disabled and Veterans, and have shown their support through the annual Lake Michigan outings and by hosting a volunteer day of service. However, it wasn't until this year's "Shine Your Light Day," which asked the community to express why The Lighthouse is important to them, that they made their first monetary contribution.
"What led me to extend further support is seeing how it's a relatively modest institution with highly dedicated people who are able to accomplish extraordinary things," Nick says. "The clock factory and the call centers both provide meaningful employment, which provides opportunities for people to have a more enriched life, knowing that they can make a valuable contribution."
Are you ready to join the Berberians and make your first donation to The Lighthouse? You can give online today at chicagolighthouse.org/donate. If you have questions about your contribution or wish to include The Chicago Lighthouse in your estate plans, please contact Lora Nickels at lora.nickels@chicagolighthouse.org or (312) 997-3643.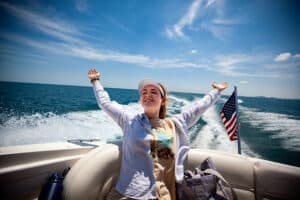 A Youth Transition Program participant enjoys a boat cruise.
Back to top