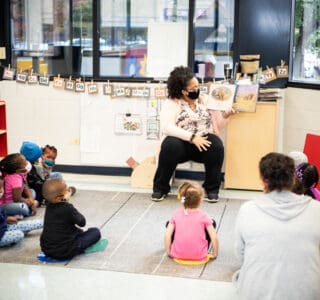 New Faces Bring New Energy
Back at The Lighthouse for the 2021-22 School Year
The first day of school is always exciting, but it was even more special this September. Because of the pandemic, our school for children who are blind, visually impaired, disabled, and otherwise at-risk was remote for the first part of the last school year. On the first day of class in 2020, the students greeted their teachers and classmates through a screen. This year, we welcomed our students back to the Judy and Ray McCaskey Preschool and the Children's Development Center with colorful balloons and happy faces behind our masks.
Among the new faces in our school are two new educational leaders. Jordan Owens joined The Lighthouse in August as the Principal, Vice President of Education Services, and Director of Special Education, and she is already making her mark. She has incorporated a new health and wellness period into the daily school schedule. All students now spend at least 30 minutes every day working on mobility and movement in the gym.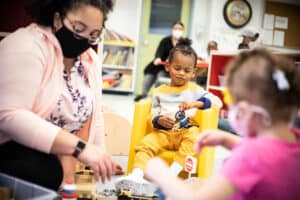 Jordan has also implemented a functional curriculum to help students learn real-world skills through their schoolwork. "For instance, we might teach math concepts using money as an example," Jordan says. "We need to teach kids how to use the many different payment systems that exist, and we can incorporate that into the regular curriculum."
Another new addition to The Lighthouse staff, Valerie Pokladowski is The Lighthouse's new Preschool teacher. "Miss Val" previously taught at Lincoln Park Preschool for six years, and she is excited to create an inclusive, welcoming classroom.
"The Lighthouse's mission is so similar to my own values: We want to help students take control of their own learning and growth," Valerie says. "It's a natural fit for me."
We are taking care to ensure the school year can continue safely by wearing masks and practicing social distancing in the school. Now that we have the students from the Preschool and the Children's Development Center back at The Lighthouse, we are ready to make up for lost time and ensure they have an enriching school year together.
Back to top