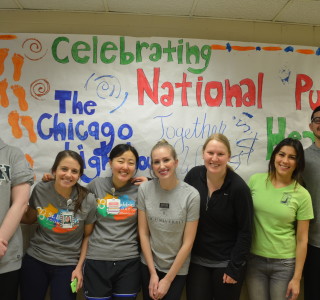 Chicago Lighthouse Observes 2016 National Public Health Week
Emphasizing the fact that good health contributes to a happy workplace, The Chicago Lighthouse celebrated National Public Health Week (April 4-8) with a number of educational and fun activities.
Among them were group exercises; a yoga session; dances; lunches offering nutritional dishes; informational discussions; and a biggest loser contest designed to help individuals safely lose and keep off weight.
"We wish to thank all our staff and program participants for getting involved in National Public Health Week," said Jeanette Bonzani, senior vice president of human resources at The Lighthouse.  "We also want to extend special appreciation to the nursing and medical students at Rush.  National Public Health Week is made possible through their hard work and dedication!  They put so much effort into planning and assisting us with activities throughout the entire week."
Among Lighthouse staff members who participated in the observance was Karoline Kijowski, a special events intern in the Financial Development department.
"I think it is great that The Lighthouse observes Public Health Week," she said.  "This important event not only promotes the importance of good health, but it encourages us to take better care of ourselves so we can lead happier, healthier lives!"
Back to top