Making Time for Design
Lighthouse print operator Dave Williams finds a creative outlet designing clocks for consumer markets.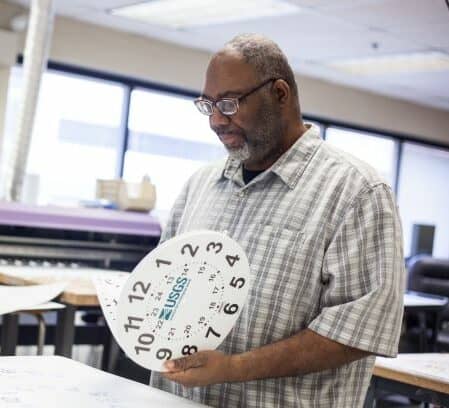 Dave Williams inspects a clock face.
As a child, Dave Williams loved to draw. Comic strips, cartoon characters, doodles, just about anything he could think of, he would put down on paper. As with so many other people, creating art remained a hobby as he got older, found work and began his adult life, until he came to The Chicago Lighthouse in 2017. "It was just something I did," Dave says humbly. "It was something that stayed with me throughout my life."
Hired in Lighthouse Industries, Dave, who has low vision, worked as a die-cutter and a materials handler in the clock factory, before landing his current position as a print operator, designing clock faces, calendars and other materials assembled in the plant. The position was a natural fit for his artistic inclinations, and the opportunity to learn programs such as Adobe Illustrator and Photoshop also appealed.
"I had never had access to them because they're so expensive," Dave says. "Now, I get to use them every day, and I'm getting pretty good at them."
At work, Dave processes about 100 orders a day, making sure designs and logos are correctly updated and the clocks are properly branded for either Skillcraft (an AbilityOne brand) or The Chicago Lighthouse, depending on the order. Even when the clock facility was shut down during COVID-19, Dave still made it a priority to come in and keep the orders moving so the team wouldn't fall too far behind when they came back.
"I was here, printing out orders and getting the designs ready," Dave says. "I knew we would have a lot to do once we reopened."
With the little downtime he may have, Dave designs some of The Lighthouse's fashion clocks, including a multicolored ribbon design against a black background and a yellow and black modern design, for the consumer markets. "I'm playing with some new ideas," Dave says. "I like having creative opportunities."
Those opportunities may be expanding. The Chicago Lighthouse print shop is getting ready to expand its offerings to include banners and T-shirt designs. Once those capabilities are in place, Dave is hoping he might be able to put some ideas together and make a splash in the fashion world. "I would really like that," Dave says.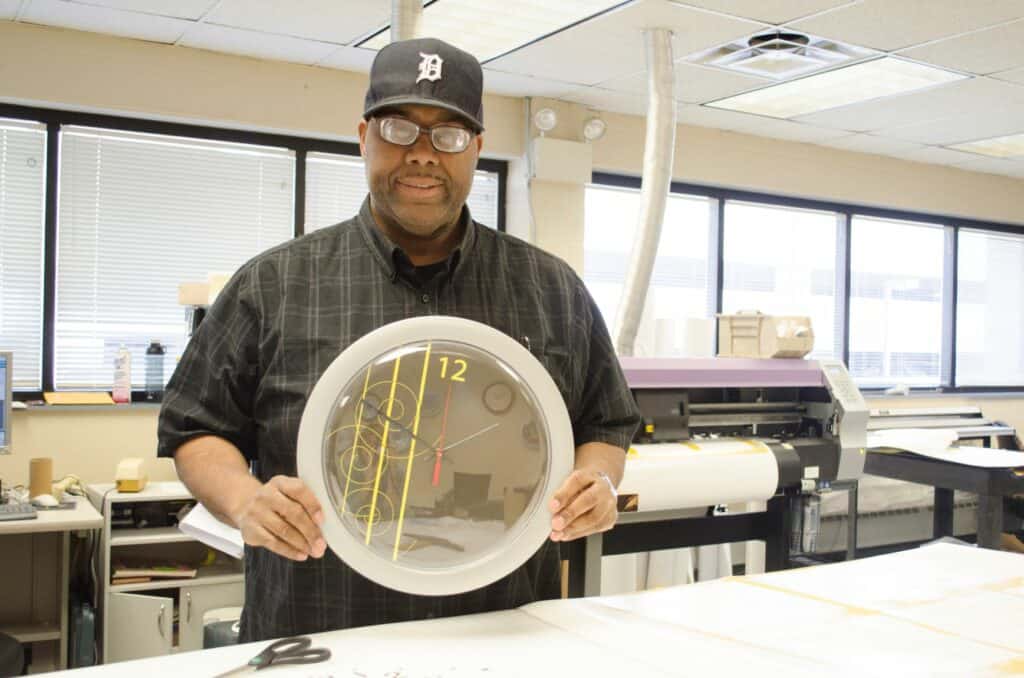 Dave Williams with a clock he designed.
Back to top