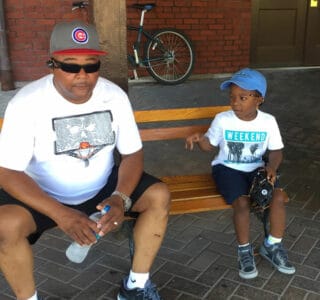 Keeping the Little Things in Sight
After experiencing vision loss, Glenn thought about his future with a sense of hopelessness. Thanks to the comprehensive vision rehabilitation services he received at The Chicago Lighthouse, Glenn learned to maximize his vision to continue enjoying life.
The Chicago Lighthouse's Low Vision Services aim to be a one-stop shop for those experiencing vision loss. They are a place where patients can receive emotional support in addition to an array of services that help to maximize vision and maintain independence in all areas of life. Glenn is one of our patients who embraced all that our clinic has to offer.
Glenn came to The Chicago Lighthouse last year after losing much of his vision due to Leber hereditary optic neuropathy. Glenn's vision loss hindered his ability to work, read, cook, and, perhaps worst of all, clearly see his 9-year-old grandson's face. As a result, Glenn had become quite depressed about his future.
Glenn scheduled an appointment at our Low Vision Clinic, where he met with Dr. Kelly Scherer. At that appointment, Dr. Scherer reviewed his disease progression, diagnosis, and treatment options. She also recommended Glenn try a pair of bioptic glasses. Glenn also scheduled an appointment with our in-house psychologist Dr. Michael Smith. During their session, Glenn expressed his frustrations and fears related to his declining vision. Glenn also scheduled two sessions with occupational therapist Laura Hayes, who provided tips and advice that enabled Glenn to continue his love of cooking.
Finally, Glenn had several consultations with our Assistive Technology team. They showed him several different devices that might help Glenn maintain his independence, including IrisVision. IrisVision combines an individual's remaining vision with artificial intelligence to help people read, watch television and recognize faces. For Glenn, the device provided exactly what he wanted, and after nearly a year, he was once again able to see his grandson's facial expressions. "Coming to The Lighthouse was the best thing that happened to me," Glenn says. "Their support and resources brought back all the little things in life that we don't always think about but mean so much."
Back to top