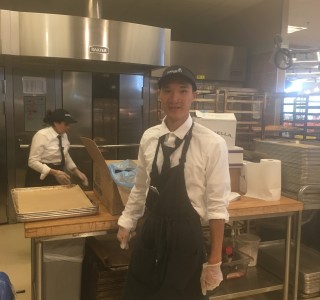 First Jobs Program: Week 6
July 22, 2016 | Noel LaRosa

When I first learned about the First Jobs Program at The Chicago Lighthouse, I was skeptical because I assumed the problems with my vision would hinder me from working.  I have cortical vision blindness and am legally blind.  I cannot see letters or small details, and I can't focus on an object for long without getting a severe headache.  I was worried that if I enrolled in the First Jobs Program, I might not be able to find a job that would work with my condition.  My biggest fear is not living up to my employers expectations due to my vision.  But I knew this would be a good move for me to prepare for future employment and start building my resume.
When I first arrived at Lighthouse North for the First Jobs Program, I was both excited and nervous.  I immediately saw Shelle Hamer, who manages the program, along with four other students.  The first week, we learned about resume building, financial budgeting, how to eat with etiquette, travel to work effectively, employment expectations, problem solving and conflict resolving.  Every day was a different lesson!  By the end of the first week, we all became well acquainted and I found each student to be smart in their own unique way.  We also had a mobility specialist travel with us to what would be our workplace (Mariano's) and help us navigate the store.  I had previously been inside a few times beforehand with my personal mobility teacher, so I was already familiar with the Mariano's layout.  We also learned the route to the bus stop.  Fortunately, I use the same route to get to my classes at Oakton Community College.
During the second to last day of training, we went to Mariano's and met James, the store hiring manager.  I could tell by his voice and attitude that he really cares about his job and the growth of Mariano's.  He seems to really want his employees to feel comfortable and know that Mariano's treats both customers and employees like family.  He wanted to interview us right away, which was surprising because we were supposed to do it on the last day of job training.  I am personally glad that it was one day earlier because I felt more confident on that day instead of the last day.  Also, I wanted to get it over and not have to worry about it one extra day.  I think my interview with James went really well.  He was easy to talk to and didn't ask too many hard questions.  We also found out that we got hired on the next day which was a nice relief!
On the following Tuesday, we started our first day on the job.  Another student of the First Jobs Program, Steven, was chosen as my partner for the day.  He is really quick on his feet and a fast learner. Our assigned role is to pack cookies, bread  and other bakery goods.  Essentially, we ready the items before they are put in the oven.  One of my favorite aspects of the job is handing out free samples of small cookies to kids.  The smiles are priceless.
This is not to say I haven't faced challenges.  Since the beginning of work, I've had trouble distinguishing differences between bread, cookies, muffins and other similarly shaped items.  It's also occasionally difficult for me to read labels.  However, with strong support from my colleagues, I'm able to get the job done (though, admittedly, it takes a little longer).  Minor issues aside, working here at Mariano's has given me a new sense of confidence and invaluable work experience for the future.  By taking my time and utilizing my glasses, I'm able to avoid the headaches associated with my vision and, fingers crossed, I have not missed a day of work.
Mariano's is the first place I've ever worked and I am loving every second of it.  I plan to continue working here into the fall season and beyond, and I owe my newfound confidence and ambition to The Chicago Lighthouse and their First Jobs Program!
Thank you Chicago Lighthouse for helping transform my life
— Noel