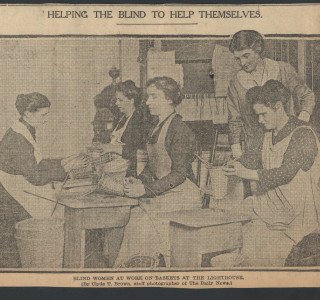 Women's History Month: Early Women of The Chicago Lighthouse
In observance of Women's History Month we are profiling several outstanding women who have made unique contributions to The Chicago Lighthouse since it was established 110 years ago. In this post, we salute the women who played key roles in the early years of our organization.
Committed to providing basic necessities like food and clothing to the blind and visually impaired communities of Chicago, five prominent ladies launched what became The Chicago Lighthouse in 1906. The founding group included Ms. Winona Hood, Mrs. E.H. Gardner, Mrs. J. Sloan, Mrs. Harper and Mrs. IIett. They met at the home of Mrs. Hood, spouse of a distinguished doctor, at 2959 W. Washington Blvd. on the city's west side.
In 1910, The Lighthouse was officially chartered with the State of Illinois as the Improvement Association for Blind People. In that same year, a production area was set up in the basement of Ms. Hood's home, producing brooms and baskets made by people who were blind. From its earliest days, The Lighthouse has been committed to employing people who are blind or visually impaired.
Seven years later, the first female executive — and the longest serving executive in Lighthouse history — took office, Edith Swift! The daughter of a Chicago mayor, Ms. Swift served for a total of 29 years and still holds the record for having the longest tenure of any Lighthouse CEO. Among many highlights of her administration was the creation of a job placement program focused on finding employment for people who were blind in local industries such as Edison Electric, Chicago Nut Company, Victor Gaskets, Ankell & Barker Cars, Garrett Buggies and smaller companies making calendars, furniture, boxes and other items.