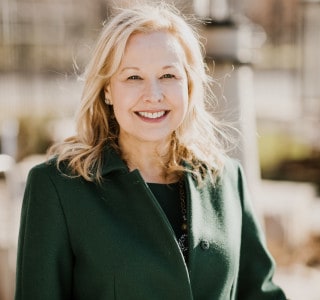 Dr. Janet Szlyk, Ph.D.
Chicago Lighthouse President & CEO
A highly respected researcher and scientist in the field of low vision, Dr. Janet Szlyk assumed leadership of The Lighthouse in 2008, becoming the second woman in the organization's 110-year history to hold the top position. Dr. Szlyk previously served as professor and director of the Low Vision Laboratory in the Department of Ophthalmology and Visual Sciences at the University of Illinois at Chicago for 10 years. Her continued research focuses on the processes of rehabilitation following vision loss, development and assessment of methods, devices, and treatments to optimize remaining vision in patients with eye disease, the psychological effects of vision loss, and the relationship between clinical tests of visual function and the performance of everyday activities. Dr. Szlyk has also been a VA Rehabilitation Research Scientist since 1993, and a Rehabilitation Research Career Scientist from 1999 to 2011. She earned a Bachelor of Arts at Brown University, as well as a Master of Arts and doctorate at Fordham University.