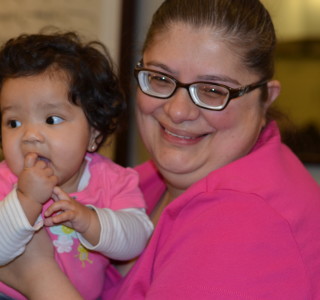 Low Vision Patient Sees Granddaughter's Face – Thanks to Lighthouse Charitable Care
November 14, 2013 will be a date that Maritza Garay will cherish for the rest of her life. That's when Maritza, 48, a resident of Chicago's north side who is visually impaired, got to see her new granddaughter, Victoria, for the very first time. This momentous occasion came about through special high resolution glasses that she received courtesy of The Chicago Lighthouse.
Maritza was first diagnosed with a vision problem when she visited her local Lens Crafters in 2005. The optometrist recommended that she contact The Lighthouse for further consultation. Like many others experiencing the loss of sight, Maritza was in self denial. "I just couldn't accept it," she recalled. "I didn't want to acknowledge my disability for fear of being cut off from everyone."
Maritza finally visited The Lighthouse this past September, where she was provided with Lighthouse charitable vision care to cover the cost of her exam and eyeglasses. In November, on a visit to get her new glasses fitted, Maritza was accompanied by her sister, Brenda Barrios-Kominacki, and her daughter, Jessica. Jessica brought her daughter, Victoria, to the fitting as well, enabling Maritza to clearly see her granddaughter for the first time.
"It is almost impossible for me to describe the excitement I felt when I clearly saw for the very first time the face of that beautiful baby girl," Maritza smiled.

To anyone losing their vision, she would without hesitation encourage them to seek treatment. "There are marvelous places like The Lighthouse to turn to!"  Maritza also says that she learned an invaluable lesson. "It doesn't make you weak to ask for help, it makes you stronger!