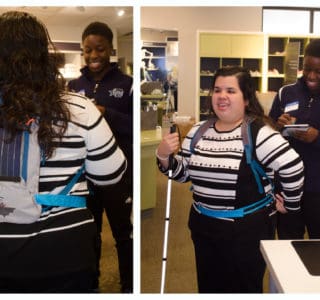 How Will Haptic Technology Help Those with Vision Loss?
The Chicago Lighthouse's Assistive Technology Center frequently receives requests from technology developers interested in testing new products among Lighthouse clients and staff. Last Monday, several colleagues and I explored a prototype of a product that assists people with vision loss in navigation. Dubbed the "haptic backpack" by its designers from the Illinois Institute of Technology, this backpack detects nearby obstacles long before a person comes in contact with them. It would allow a person without sight to avoid objects that are above waste level, such as overhanging branches and other objects that are impossible to detect with a cane. The backpack lets the user know of the upcoming obstacles through vibrations that are emitted in different parts of the bag.
The concept of designing mobility devices that vibrate (or give other tactile or audio feedback) to those who are blind or visually impaired has been around for many years. From smart canes that vibrate when they detect objects to haptic clothes that serve as a GPS, technology developers all over the world are constantly working on prototypes that would allow people with vision loss to be more independent when out and about. I have heard and read about these inventions over the years, and have always been curious to learn how exactly they work. Monday was my first time actually seeing this concept in action.
Background
The idea for developing a navigational device for people with vision loss came after Venika Jarvis and Karen Castillo, both studying industrial management in business at the Illinois Institute of Technology, observed exchange students designing a backpack with built-in technology. They realized that a similar prototype could potentially help those with vision loss be more independent and safe in their travels.
"If I think something is a good idea and can help someone, then I think we should figure out how we can help this person and make their day better," Venika says.
How It Works
The backpack has different sensors incorporated throughout the straps and bag, which vibrate when the user gets near an object or person. It also has an on/off switch, so the user can turn it on when needed. The rest of the time, it serves as a conventional backpack. It is charged via a USB cable that accepts electricity through a wall outlet or by plugging it into a computer.
First Impressions
One of the things I particularly like about this product is the portable design. Since it is a backpack, it is very lightweight, and has multiple uses. A person who is blind can use it as a mobility device and a bag to carry things all at once. Those in the technology world understand  this concept as wearable technology, and it is a trend that is slowly becoming more popular. I do not think this bag would substitute the use of a cane or dog guide, but rather it would enhance the travel experience.
Improvement Suggestions
When I turned on the backpack, it immediately began sending gentle vibrations as it detected people and things within a few feet. Unfortunately, I could not pinpoint what or where each thing was simply by the vibrations. This is something that the designers are still working on for future developments. Although I could feel the vibrations on the backpack straps, it was virtually impossible to feel those coming from the actual bag. This could probably be easily fixed by incorporating more sensors to the straps, or increasing the haptic intensity of those coming from the bag.
Final Thoughts
Overall, the concept of haptic clothing or – in this case a backpack – is something that has potential. Not only would it help in detecting obstacles, but it could also assist those who are blind or visually impaired with navigation, especially if GPS was also incorporated. This same idea has been around for years, and it will take time to perfect. A special thanks goes out to Karen and Venika for letting The Chicago Lighthouse try out the device, as well as share our feedback with them. Technology helps people with disabilities live more independent and fulfilling lives, and this device will one day potentially do just that for those with vision loss.
Back to top