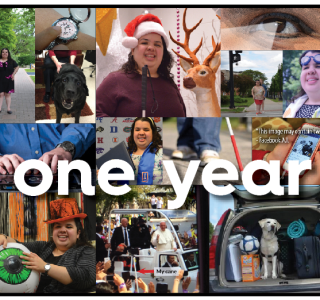 Happy Birthday Sandy's View!
March 17, 2016
After 52 columns and 41 commentaries, Sandy's View turns one year old! The blog launched on March 19, 2015, and we continue to grow in popularity. With a total of 93 posts so far, Sandy's View now has readership throughout the world. Launching this blog has been both a new venture and learning experience for all of us at the Chicago Lighthouse.
The idea for Sandy's View came from the need to spread awareness, both about The Chicago Lighthouse and about blindness and visual impairment. With all the social media and blogging platforms available to everyone, it is now easier for individuals, businesses and organizations to communicate their message virtually all over the world. Although the blog is about blindness and visual impairment, its main goal is to inform the general public about what people living with vision loss experience on a day to day basis.
Our initial and main purpose was to answer frequently asked questions about living with a visual impairment. To this date, these posts continue to be the most popular among readers! The blog has also gained followers who are blind or visually impaired. In addition to how to questions, Sandy's View also covers current events, technology and product reviews and programs and services offered at The Chicago Lighthouse. Needless to say, the blog has grown significantly during its first year!
Writing columns and commentaries is a true learning experience. As someone who is blind, I can relate firsthand to many of the topics I've written about. Still, I often have to do additional research and gather information. Although I sometimes use my personal experiences as examples, I share information that will benefit everyone. Vision loss is different for each person and so are our life experiences. Both sharing my view and informing others are the two most important objectives of this blog.
First and foremost, thanks to The Chicago Lighthouse for making Sandy's View possible. As an organization we work to provide crucial programs and services to individuals with vision loss, and now people throughout the world can also learn about blindness and visual impairment. Thanks to everyone for your continued interest in Sandy's View. This has definitely been a great year full of learning experiences! We would love your feedback, and invite you to take this short survey. Your comments and suggestions will help us better target our content to your interests and preferences. Happy first anniversary Sandy's View!