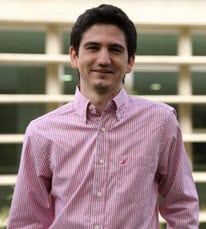 Guest Commentary: A Picture of Visual Impairment Filled with Contrast
Axel Davila is a student at Georgetown University and contributor to Sandy's View. Axel came to the United States from Venezuela, and this week he shares his thoughts on the differences and similarities regarding the accessibility situation of individuals with vision loss living in Latin American countries and the United States.
Moving from one country to another is never easy. Leaving your culture behind to experience something new can be a challenging endeavor. However, there comes a time when you have to try it.   After five months living here in the United States and having heard testimonies of visually impaired citizens from Venezuela and Argentina which I have gathered for the Sandy's View blog, I feel a bit more qualified to offer my personal impressions.
At first glance, the main problem is the numbers. It is not that the disability figures and rates are higher in Latin American countries than in the United States. The reality is that in Latin American countries, there are not official statistics or research. Therefore, analysis of the problem is more difficult because the numbers aren't there to back them up.
During my time in the United States, I have seen greater inclusion of people with visual impairments and other disabilities.  This can be attributed in part to the fact that the U.S. has been a more open society that listens to the needs of its citizens, including the disabled community.
Another positive aspect has to do with building structures and facilities. In this country, it is more common to see someone who is visually impaired more able to navigate their surroundings.  This infrastructure that is accessible to everyone – is incorporated into buildings. Additionally, the majority of the time public transportation has accessibility for those with disabilities. These features include elevators for people who use wheelchairs and periodic audio information updates for passengers with visual impairments. In contrast, public transportation in other countries lacks these features. For example, buses do not descend to ground level to make it easier for people to get in, which presents difficulties for those with mobility impairments.
Another major problem for people with vision loss living in Latin American countries is that they encounter obstacles, such as non-compliance of drivers with traffic lights, and trash and potholes on the sidewalks. Not to mention the lack of traffic lights with braille or sound.  As you might imagine, it is quite complicated for someone who is visually impaired to be a pedestrian in these countries.
Something that the U.S. and other countries have in common is the constant use of technology. Nowadays, cell phones absorb people's attention. On one hand, they can present disadvantages, as people are less aware of what surrounds them. This, of course, is a problem for pedestrians with and without disabilities. On the other hand, the advent of technology also has major benefits. In the United States, apps such as Uber and Lyft have contributed to making it easier for people who are blind or visually impaired to get around. While these apps also exist in Latin American countries, these services are not always accessible or safe.
These are just a few of the most noticeable accessibility differences between the U.S. and other Latin American and Caribbean countries regarding people with visual impairments. There is a lot more to achieve in all of these countries, including the United States. However, acknowledging both the current problems and achievements can put things into perspective. As I continue to be here in the United States and contribute to the Sandy's View blog, I will try to shed more light on the current situation of people with visual impairments in different parts of the world. By doing this, I hope to not only tell their stories but also to spread more awareness about individuals with disabilities living in different countries.