Youth Transition Program
In light of COVID-19, this program is temporarily closed. View our homepage for the latest details on reopening.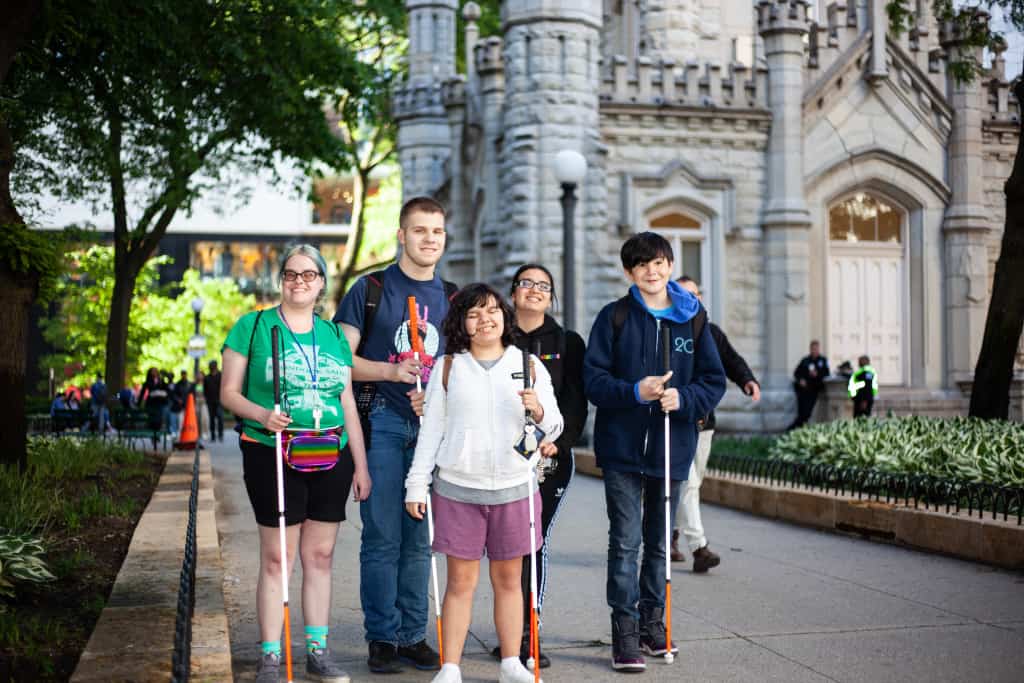 About
At The Chicago Lighthouse, we create a nurturing environment that supports people who are blind and vision impaired in all areas of life. Our Youth Transition Program provide teens and young adults (ages 15 – 24) with the tools they need for independence. We host a variety of experiences designed for youth who intend to live independently, seek competitive employment, and/or attend a vocational training program or college upon graduation from high school. We'll work with each participant to address his or her individual needs and challenges.
See our schedule of upcoming sessions *(more to come):
---
5th Annual Career Fair | March 13, 2020
Learn from business leaders and hear the compelling stories from many successful blind and visually impaired people.
---
First Jobs Program | Training Week June 29 – July 2, 2020
5 week paid internship to follow
Please complete application and assessment.
This unique vocational program combines classroom learning, on-site orientation and paid work experience for youth who are blind or vision impaired. During the first week, students attend classes on resume writing, career planning, disability disclosure, nonverbal communication skills, self-advocacy, conflict resolution and mock interviewing. An orientation and mobility specialist helps each student orient to his or her workplace. Together with the team, First Jobs participants learn to function confidently and independently in their jobs. For the next six weeks, they will work at a designated site as paid intern employees, with the possibility for competitive employment.
---
Summer in the City (SitCity) | June 14 – 19, 2020 | July 12 – 17, 2020
Please complete application and assessment.
Summer in the City is a five-day residential program designed to assist youth who are blind or visually impaired as they learn and practice basic life skills. By combining life-skill lessons with adventures and socialization, students overcome their hesitations and fears. Summer in the City youth spend the week living in a dorm environment in Chicago, where they attend daily classes in technology, mobility, communications, fitness and daily living skills. During the afternoons and evenings, participants travel throughout the city on foot, as well as by bus and train, to explore Chicago's many attractions, such as Wrigley Field, Shedd Aquarium and the Lincoln Park Zoo. They also enjoy theater, boating, indoor skydiving, and rock climbing, while sampling a variety of cuisines in Chicago's many restaurants. Students make lasting friendships as they connect and bond with peers who experience the same challenges.
---
Saturday Seminars
Saturday Seminars provide a critical supplement to students' high school learning. This series of monthly seminars is held at The Chicago Lighthouse North in Glenview. Each day-long program covers a topic of particular relevance to youth with vision impairment, such as guide dogs, cooking, money management, scholarships, skiing and more. Each class features a complimentary lunch as an opportunity to build social skills, practice table manners and create friendships. These seminars extend the Youth Transition Program beyond the summer.
---
For more information, please contact:
Shelle Hamer
Manager, Youth Transition Program
(847) 510-2055
Email Shelle