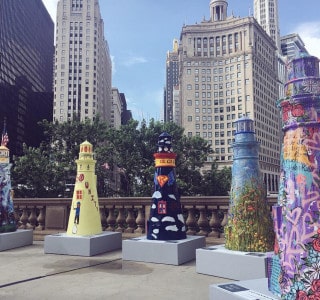 Mag Mile Artists Profiled in Daily Herald
Daily Herald - Jul 9th, 2018
Daily Herald Reporter Katlyn Smith profiled our Lighthouses on The Mag Mile Public Art Display in a  comprehensive article that ran on the paper's front page this past weekend.
Click here to read the full article.
Included were several stunning photographs of some of the lighthouse sculptures and an overview from Chicago Lighthouse President/CEO Dr. Janet Szlyk who initiated the idea and spearheaded the entire effort.