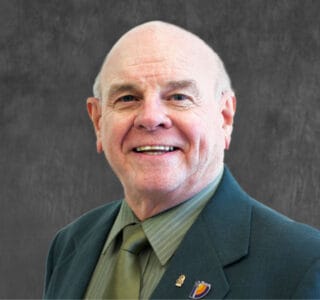 Big Heart, Bigger Vision The Story of John Coleman
Oct 27th, 2021
"It was like a miracle," John Coleman says. Nearly 60 years after losing vision in his eye, John Coleman once again had clear vision, all thanks to a connection he made at The Chicago Lighthouse.
John was ten years old when a BB gun accident severely damaged his left eye. Specialist after specialist told him the damage was irreparable. Accordingly, John, like so many others in the 1940s, learned to live with his visual impairment. He developed his own personal accommodations, even bluffing his way into an Air Force pilot-training program at 17 (he left the program before his first flight). He went on to marry, have children and founded his own company—and the idea of restoring his vision faded to the back of his mind.
Instead, John dedicated his time to assisting others who were blind or visually impaired. He joined Lions Clubs International, where he helped organizations (including The Chicago Lighthouse) dedicated to improving the lives of people with vision impairments. As Governor of the Chicago-area district, he led several community-improvement initiatives, including one to establish The William Strickfadden Assistive Devices Program that supplied people with products to facilitate independent living (and was the basis for our Tools for Living® stores) at The Chicago Lighthouse. (He is currently the Sight and Sound Chairman for the Burbank Lions Club, which provides glasses and hearing aids to members of the community.)
"Whenever and however I can give back, I do, especially to those who are blind or have visual impairments," Coleman says.
In that spirit, John has devoted countless hours to helping The Lighthouse. He also acted as a liaison between The Lions and The Lighthouse, and he enlisted his wife Pat and son Chris (both of whom are also Lions) to help out whenever possible.
Perhaps most importantly, John's dedication to helping those with visual impairments impressed former Lighthouse Executive Director Jim Kesteloot, who recruited John to The Lighthouse Board in 2004. By that time, John was in his late 60s, and he had pretty much given up hope of ever having vision in both eyes again.
Fellow Board member and ophthalmologist Dr. Thomas Deutsch felt differently. "He told me, 'You've got a good retina,'" John says. "The BB tore at my iris and damaged the lens and muscle, but he said it could be corrected." After Dr. Deutsch personally performed a three-hour corneal-implant surgery, John's left eye was functioning again. "It was nothing short of life-changing," John says now.
John has recently retired after seventeen years from The Chicago Lighthouse Board at age 86. Still, he remains committed to our longevity more than ever. This year, he and his wife Pat contributed to our Envision the Future Endowment Campaign, ensuring future generations can benefit from our life-changing work. "The Lighthouse has been such an important part of my life and the lives of so many others," John says. "I want to make sure its services are available for all of the people who need them far into the future."
The Lighthouse has been such an important part of my life and the lives of so many others. I want to make sure its services are available for all of the people who need them far into the future.
—John Coleman
Back to top