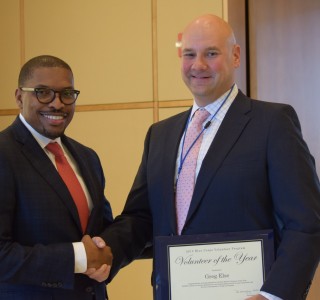 Blue Cross and Blue Shield of Illinois Volunteer of the Year Keeps Paying it Forward
Blue Cross and Blue Shield of Illinois - Feb 18th, 2016
Colleen Miller
(312) 653-6904
colleen_miller@bcbsil.com
(Chicago) – Blue Cross and Blue Shield of Illinois (BCBSIL) is proud to announce its 2015 Volunteer of the Year, Greg Else, a client implementation consultant. Greg has logged more than 1,000 volunteer hours since joining BCBSIL 13 years ago.
Greg began volunteering as a child with his family and the early experience shaped him into not only an outstanding volunteer, but a leader in Blue Cross and Blue Shield of Illinois' volunteer force. Greg is co-chair of BCBSIL's Celebration of Caring, an employee volunteerism committee based at BCBSIL's Chicago headquarters that offers small-scale, high-engagement volunteer opportunities for employees.
"We have an obligation and an opportunity to give back to the community," says Else. "When folks talk about our commitment to our communities I can say I personally contribute up to 70 projects a year that our company supports."
Many of those projects are coordinated with organizations such as the United Way, the YMCA of Metropolitan Chicago and Loaves and Fishes, a Naperville-area food pantry.
Greg is most proud of getting BCBSIL to send a team of workers to the annual Chicago Cares Serve-a-thon not long after he started with the company. The event is Chicago's largest day of service and BCBSIL now sends a team of more than 300 employees and their family members to paint schools, beautify parks and serve the needs of elderly.
Greg also co-founded the In-Abled Disability Awareness Business Resource Group, which addresses issues and concerns of people with disabilities and their caregivers. He has worked extensively as a leader in the company's annual Employee Giving Campaign as well.
"Greg is a real leader when it comes to volunteerism," says Wayne Marshall, vice president of Greg's Group Experience team. "He mentors others and empowers them to lead their own volunteer projects. As a company, we strive to create a culture where we truly do care for our communities, and Greg is a wonderful example of that community spirit in action."
Greg was awarded $1,000 to donate to a non-profit of his choice and he elected to split the stipend between Access Living and The Chicago Lighthouse.
About Blue Cross/Blue Shield of Illinois (BCBSIL)
With 8.1 million members, BCBSIL, a division of Health Care Service Corporation, a Mutual Legal Reserve Company, is the largest health insurance company in Illinois. Begun in 1936, BCBSIL remains member owned rather than publicly traded and is committed to promoting the health and wellness of its members and its communities, fostering greater access to care, and working to lower the overall cost of care while improving health care quality and patient outcomes.
###