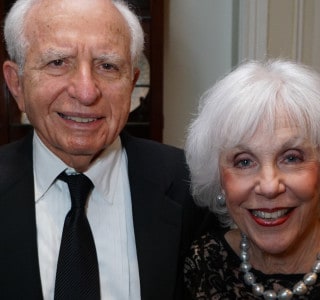 Remembering Charles and Margery Barancik
The Chicago Lighthouse mourns the loss of Charles and Margery Barancik, philanthropists and incredible supporters of The Lighthouse, whose generosity is an inspiration to us all.
Service to others was a consistent theme throughout both of their lives. Margery earned a Master's Degree from Columbia University in the teaching of children who are hearing-impaired and lead a career working with children who were deaf as well as young adults with multiple disabilities. Mr. Barancik began his career as a Certified Public Accountant, and eventually went on to acquire and operate 10 companies, including Justrite Manufacturing Company and Hamilton Industries. As a business owner he put his employees first, always recognizing their hard work and contributions.
The Baranciks were introduced to The Chicago Lighthouse through their longtime friend, Dr. Joel Kaplan, retired ophthalmologist and longtime member of our Board.  Years ago, while traveling overseas, Mr. Barancik experienced an eye injury and called Dr. Kaplan for advice. Upon returning home, he was treated by Dr. Kaplan for a detached retina. While his vision was restored, this experience motivated him to help individuals who were blind or visually impaired. After learning of Dr. Kaplan's passion for The Lighthouse, he visited for a tour. He was deeply touched by the work he saw being done at The Lighthouse. He ultimately gave a gift of $1 million in Dr. Kaplan's honor.
Mr. Barancik remained an advocate and supporter of The Lighthouse after his initial visit. "He was always inquiring about what's new at The Lighthouse and promoted the organization to others," said Dr. Kaplan. The Baranciks also donated to our Scholarship Program, which was very close to their hearts, as they were both passionate supporters of education for individuals in need.
Throughout their lives, they gave generously to numerous causes, and in 2014, they founded the Charles and Margery Barancik Foundation with their three children. The Foundation has awarded millions to organizations in the areas of arts and culture, education, financial empowerment, and the environment, among others. They cared deeply about the world around them and dedicated their time to helping communities thrive.
"They were the most warm and unassuming people that you could imagine, who were sincerely devoted to the enhancement of the lives of others," said Dr. Kaplan. They will be deeply missed, but their legacy is remembered through the countless lives that they have impacted with their kindness and giving spirits.
Read the obituary to learn more about our dear friends.
Back to top