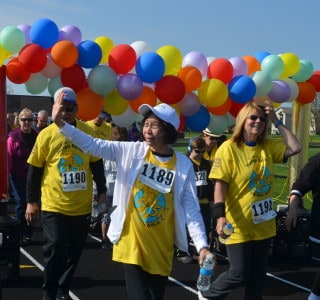 Annual District 1-A Lions Helen Keller 5 K Fun Run/Walk Set for April 30th
A day of fun, fellowship and great exercise is in store for participants in the Seventh Annual District 1-A Lions Helen Keller 5 K Run/Walk on Sunday, April 30th.
Best of all, all proceeds will benefit programs assisting people who are blind or hearing/visually impaired, including those offered by The Chicago Lighthouse.
The action takes place at Richards High School, 10601 S. Central Avenue in Oak Lawn.  Race day registration begins at 7:30 a.m. with runners and walkers starting promptly at 9:30 am.
An added plus will feature Chicago's popular K Hits/WJMK 104.3 FM streaming live from the race/walk.
Also, the Lions of Illinois Foundation will have their bus on hand to provide free hearing tests.  Another bus will be on site to offer free retinopathy screenings.  Refreshments will be available too, courtesy of PRAIRIE Materials, which will be grilling hot dogs and other favorites, and the Dough Guys Bakery, which will be selling coffee, donuts and the special Doughs Girls Cupcakes.  A portion of their profits will be donated to the event.
"We enthusiastically invite everyone to join us as we walk and run for the benefit of our fellow citizens with disabilities," said Co-Chairperson Chris Coleman.
In addition to the Run being timed, men and women who place first, second and third in their respective age categories will receive awards.
To register on line, go to the District 1-A Lions website at www.lions1a-us.org and choose "5K Walk/Run."  Registration fees for the 5K Run are $30.00 and $20.00 for the 5K Walk.  If walk participants raise $50.00 or more in donations, then registration is free.
For more information, contact Lion Chris Coleman at (708) 785-5726 or Lion Frank Kirar at (708) 636-2165.