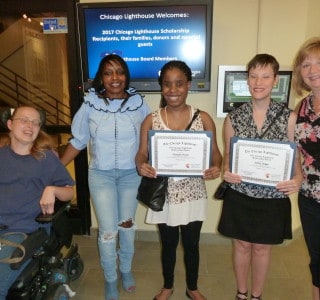 2017 Lighthouse Scholarships Showcase Excellence
They are pursuing majors as varied as music therapy, actuarial science, immigration law, physics and acting.  Their average grade point average is an impressive 3.31 out of 4 points.  The schools they are attending include Cornell Law School, Northwestern University, Ohio State University, the University of Illinois and The University of Iowa.
Meet the 2017 recipients of the 13th Annual Chicago Lighthouse Scholarship Awards who were honored for their academic excellence in a special ceremony at The Lighthouse on July 15.  Attendees included the students' families and some of the generous donors who helped make to the program possible.
Co-chaired by Lighthouse Board Members Dr. Joel Kaplan and Marv Lader, the venture this year awarded a total of $71,000 to 30 deserving students who are blind or visually impaired.   Thanks to this far-reaching initiative, The Lighthouse has become the nation's second largest provider of scholarship funds for students with visual impairments and multi-disabilities.
Joining Dr. Kaplan and Mr. Lader in applauding the students were new Lighthouse Board Chair Gary Rich, Lighthouse President and CEO Dr. Janet Szlyk and Scholarship Coordinator Maureen Reid.
Serving as keynote speaker was Sandy Murillo, a University of Illinois graduate who works in both The Lighthouse's Financial Development and CRIS Radio departments.   Sandy, who is totally blind, encouraged the students to work hard and never give up on pursuing their dreams.  She credited The Lighthouse for extending her the opportunity to follow through on her love of journalism, which she does through writing a weekly blog on issues of concern to the disabled community that has a global following of thousands of people.   Sandy cited her own experience at the U of I in reminding the students to utilize whatever resources they can to ensure their success at college.
Dr. Szlyk also urged the recipients to be advocates for themselves and others with disabilities while Mr. Rich emphasized the importance for students to keep in touch with their donors and share their experiences with them.
In addition, the Scholarship program helps support The Lighthouse's youth transitions program, which provides exciting employment opportunities at Chicago area companies and summer camp experience for students who are visually impaired.  Incidentally, two talented students who participated in the program, Alex Gamino and Daniel Semro, provided live entertainment at the scholarship event.