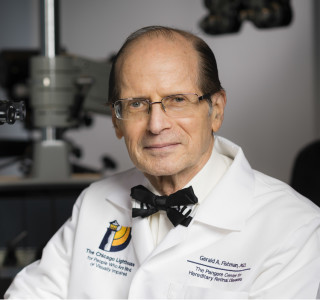 Gerald Fishman, M.D.
Director, Pangere Center For Inherited Retinal Diseases
A world-renowned ophthalmologist, researcher and academic specializing in inherited retinal diseases, Dr. Fishman has helped thousands of people better understand their unique conditions. Dr. Fishman joined The Lighthouse in 2010 after spending 36 years at University of Illinois Chicago's Department of Ophthalmology. He provides electrophysiological, psychophysical and retinal image testing, genetic counseling, visual prognosis, and vision testing for vocational evaluations. He can also recommend courses of action to optimize remaining vision. In addition to caring for patients, Dr. Fishman pursues clinical research on various inherited retinal diseases. Among his many honors is being included in Chicago magazine's annual list of the area's top 100 doctors. Dr. Fishman is a graduate of the Ohio State College of Medicine.