Bets for Vets: Virtual Poker Night
The Chicago Lighthouse presents: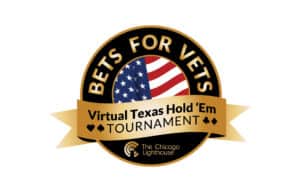 Our Veterans have given their all to us, so let's go all-in for them! Join us for a fun virtual tournament with great prizes and Zoom breakout rooms to interact with your fellow players. Players of all levels are welcome, and rebuys and add-ons will give you more chances to stay in the game.
All proceeds support programs and valuable career opportunities at The Chicago Lighthouse, a social service organization serving the blind, visually impaired, disabled, and Veteran communities.
Questions? Contact Karoline Kijowski at (312) 447-3447 or Email
Back to top