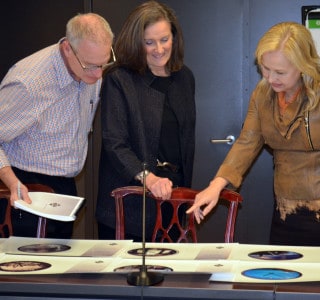 Lighthouse's Fashion Clock Designer has a Story as Interesting as her Designs!
She has designed products for areas ranging from cellular communications to mass transit to industrial equipment.  In fact, she has been granted 22 patents for product  designs.  She has taught as an adjunct professor at such prestigious schools as Carnegie Mellon and IIT.  She also served as a CEO of a major non-profit in Texas.
Meet Nancy Perkins who owns her own design firm and is currently creating bold and colorful designs for Chicago Lighthouse Industries' new line of fashion clocks.
"I am very proud to be involved with your innovative Industries program and to be associated with an organization as well respected as The Chicago Lighthouse," Ms. Perkins says.
Praising Lighthouse President and CEO Dr. Janet Szlyk for spearheading the development of a new line of unique fashion clocks, she expressed confidence that the effort will bring greater attention to Lighthouse capabilities in more diverse markets as well as help communicate our story to the public.
Her contributions to this effort include coming up with a wide array of designs.  Among them are children's themes that are "whimsical, provide learning and are colorful."  In addition, Ms. Perkins is working on developing graphics that are appropriate for offices and home offices in particular;  kitchen themes, since there is usually an absence of new offerings for this room of the house; and the 'Naturals' – the woods and cork graphics that can complement any room.  She says that additional designs will add a color pop to living & dining rooms and bedrooms.
Ms. Perkins adds that the colors were chosen from the trend palettes of Benjamin Moore and Pantone.
When asked what Lighthouse Industries can do to ensure its long-term success, Ms. Perkins responds that we should continue to build on our already well established tradition of producing clocks by offering designs that have universal and niche appeal.  In addition, she maintained that the idea of buying local or buying products that are made in America is also a plus.
Her own life qualifies as a special American success story.  Though currently residing in Pennsylvania, she spent most of her career in the Chicago area, having taught design classes at UIC and graduating from the flagship campus at Urbana-Champaign with a degree in industrial design.  Ms. Perkins went on to pursue a distinguished career in design where her professional achievements led to numerous honors, including being named a Fellow of the Industrial Designers Society of America, the organization's highest award. She also received significant management experience as CEO of the Dallas Lighthouse, a former client.
"Doing something creative that has a high positive impact has always been my driving interest," she reflects, "so industrial design was a good fit for me."  Ms. Perkins adds that she was inspired by the career of her great aunt, Anna Keichline, who was the first woman registered as an architect in Pennsylvania and was granted seven patents for her inventions.
"I now own a home she designed in 1936 and am continuing my research about her legacy," Ms. Perkins smiles.