Campaigns
Learn more about campaigns designed to generate awareness, engage audiences and raise funds for specific groups, causes and events.
Campaigns
Share the Vision Endowment Campaign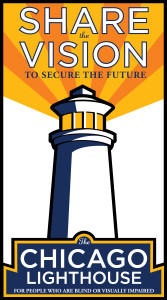 The Lighthouse Endowment Campaign is an ongoing campaign to help secure the future of The Chicago Lighthouse for the 67,000+ patients, clients and families that utilize our services each year. Historically, our endowment fund has helped maintain critical programs on the verge of shutting down, preserve jobs in times of economic distress and meet the growing demand for vision care services among America's aging population.
---
Bold Visions Brick Campaign
By purchasing a personalized commemorative brick through our Bold Visions Brick Campaign, your donation supports the maintenance, renovation and expansion of our facilities. Your brick will be prominently placed in the Children's Garden at the front of our main campus, a lasting reminder of your support of The Chicago Lighthouse. The engraved bricked can be purchased for yourself or in honor or memory of friends or loved ones.
---
For more information, please contact:
Jennifer Miller
Chief Development Officer, Financial Development
(312) 997-3643
Email Jennifer
Related Links