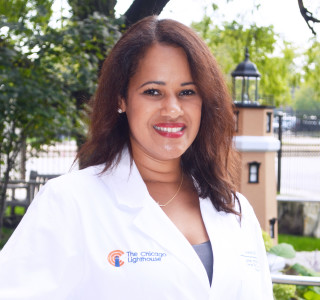 Patricia Grant, Ph.D.
Chicago Lighthouse Lauren M. Ross Chair in Low Vision Research and Vice President of Research
Dr. Patricia Grant, a researcher and scientist in the field of low vision rehabilitation, joined The Chicago Lighthouse as Senior Director of Low Vision Research in 2019. Dr. Grant's primary research focus has been in the areas of investigating the safety and efficacy of sensory substitution technology, developing and evaluating treatments to optimize remaining vision for persons with macular disease, and studying the psychological effects of vision loss. Her current research interests include demonstrating the value of assistive technology in the workplace, utilizing behavioral models to improve adherence to routine diabetes eye care in high risk populations, and exploring the global impact of assistive technology.
Prior to joining The Chicago Lighthouse, Dr. Grant was the Director of Clinical Research at Wicab, Inc., developing evaluation methods to study the impact of sensory substitution technology on vision-related function and quality of life in profoundly blind persons. She served as Co-Investigator in the clinical trial supporting FDA clearance of the BrainPort device and more recently as Principal Investigator in a study funded by the U.S. Department of Defense. Dr. Grant continues to serve as a scientific consultant for Wicab, Inc. and is currently lead scientist in a study evaluating the effectiveness of the BrainPort Vision Pro in the profoundly blind French population. Dr. Grant earned a Master of Science and doctorate in Public Health Sciences from the School of Public Health, Community Health Sciences Division, at the University of Illinois at Chicago.
Back to top