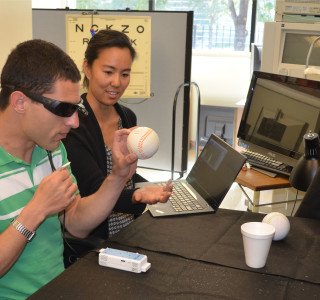 Argentine Journalist, Totally Blind, Discovers New Hope at Chicago Lighthouse with Innovative BrainPort Device
The Chicago Lighthouse - Nov 12th, 2015
When Argentine journalist Federico Romagnoli, who is totally blind, first heard about an innovative new device that could help him, he said that he would be willing to travel a long way to learn more about it.
As things turned out, he wound up travelling some 6,000 miles all the way to The Chicago Lighthouse!
There, Federico trained on the BrainPort V100 vision device, which gives individuals who are blind the ability to do things like recognize and reach for nearby objects; identify letters and numbers; and eventually become more aware of his surroundings.
Developed by Wicab, Inc., a Middleton, Wisconsin-based medical device company, the BrainPort V100 is a nonsurgical FDA-approved assistive visual aid that translates visual information from a digital video camera to a blind person's tongue, through gentle electrical stimulation.
With its national reputation for providing cutting-edge programs to assist people who are visually impaired, The Lighthouse has been an instrumental partner with Wicab in providing training for and systematically testing and evaluating the device.
After trying the BrainPort V100, Federico, who is normally quiet and reserved, could barely conceal his excitement.
"Wow," he exclaimed, flashing a broad smile. "I have just experienced a sensational new world that I have not known in all my 34 years of living!"