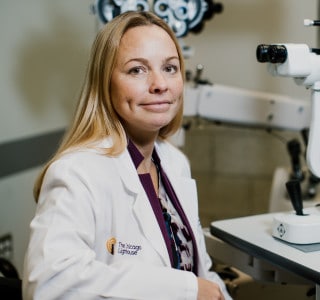 Kara Crumbliss, O.D., F.A.A.O.
Vice President, Low Vision Services
Dr. Crumbliss oversees The Lighthouse's world-class vision clinic. She also works as the coordinator of the Illinois College of Optometry's Low Vision and Ocular Disease Residency and as an associate clinical professor in primary care and low vision rehabilitation services at the Illinois Eye Institute. Her research and lecture interests include the association of low vision with Charles Bonnet syndrome, cognitive impairment and Alzheimer's disease. Dr. Crumbliss earned a Doctor of Optometry degree from the Illinois College of Optometry and completed residencies in Low Vision and Ocular Disease at the ICO and the Deicke Center for Visual Rehabilitation. She is a member of the American Optometric Association Low Vision Section and the Illinois Optometric Association. She is also a board member of the Illinois Society for the Prevention of Blindness.