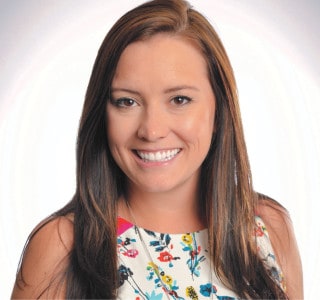 Mallory McLaughlin, OD, FAAO
Optometrist – Low Vision Rehabilitation Services
Dr. McLaughlin earned her Bachelors of Science in Biology at the University of Illinois at Chicago and her Doctorate of Optometry at the Illinois College of Optometry. She received several academic scholarships, including the Wiliam Feinbloom Low Vision Student Award, and was inducted into the Gold Key International Honors Society, Tomb and Key Honors Society and Beta Sigma Kappa Honor Society. Dr. McLaughlin completed her residency in vision rehabilitation and ocular disease at Jesse Brown VA and Hines VA.
She now practices at the Chicago Lighthouse and is an Assistant Professor at the Illinois College of Optometry. She is passionate about vision rehabilitation, medical treatment of glaucoma and co-management of cataract surgery. She teaches the Visual and Physical Optics and Communications courses and is the coordinator of practice management curriculum at the Illinois College of Optometry. Dr. McLaughlin is an active member of the American Academy of Optometry and the Illinois Optometric Association.
Outside of work, Dr. McLaughlin enjoys spoiling her dog, international travel, and volunteering.
Back to top