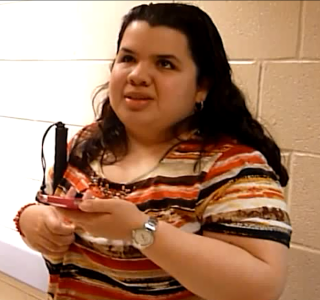 How Will Technology Make Getting Around Easier In The Future?
I decide to visit the new mall in town, but I'm not sure where everything is since it's an unfamiliar place. After taking out my smartphone it begins telling me where each store is and how to get there. The concept of way finding technology is rapidly evolving, and it promises to be of great assistance for blind and visually impaired individuals. Several companies are currently developing a method of guiding individuals through indoor facilities by using Bluetooth beacons. These are small transmitters – about the size of a sticker – that send information to smart phones via Bluetooth. By using a specific mobile app, smartphone users will receive the information from the beacons on their devices.
Recently, The Chicago Lighthouse had the opportunity to test Loud Steps, a smartphone app that when combined with Bluetooth beacons can give directions and guide blind individuals to indoor locations. While many GPS devices and apps can help outside, there is no reliable technology device that can assist to travel in unfamiliar places independently.
The Loud Steps app and accompanying beacons are manufactured by Boni Beacon, a company in Turkey that has been working on developing a navigation system for those who are blind or visually impaired. In addition to The Chicago Lighthouse, Boni is testing the new system at the Royal National Institute of Blind People (RNIB) in London and in several shopping centers in Turkey. The Loud Steps app is currently only available for iOS, but the company also plans to develop a version for Android. Blind iPhone users can navigate through the app's menus buy using Voiceover, Apple's screen-reading feature.
After installing the app and turning on the Bluetooth service on the iPhone, the user chooses their location from the menu of places where the system is available. As soon as the app picks up the Bluetooth signal from the nearest beacon, users begin hearing what's around them and the approximate location. For example, when entering The Chicago Lighthouse lobby, the app will say that the store is on the left, the front desk is in front, and that there are offices on the right.
The app shows a list of all available locations within a facility, and users can choose where they want to go by tapping on the name. For example, if I want to go to the nearest restroom, I will tap on "toilet." The app then tells me the direction and distance I should walk. Note that Loud Steps uses clockwise directions, and by default users are facing 12 O'clock. So, if I'm told that the nearest restroom is at 9 O'clock, I know I have to turn left and start walking in that direction. In the video below, I demonstrate how Loud Steps guides me to the cafeteria.
Overall, I think that the Loud Steps app and Bluetooth navigation system has a lot of potential for helping blind and visually impaired people be more independent. By using it in conjunction with a cane or dog guide, it can make navigating unfamiliar indoor spaces much easier for those of us who can't see.
How do you think this or similar types of technology will help you in the future? Do you see other potential uses besides helping in navigation? Please send any questions to sandysview@chicagolighthouse.org.
Watch Sandy demonstrate Loud Steps: