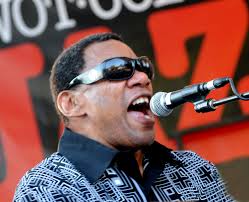 A Special Visit From Jazz Pianist and Singer Henry Butler!
Renowned New Orleans jazz artist and composer Henry Butler recently visited The Chicago Lighthouse prior to his performance at the Chicago Jazz Fest. I sat down with him to talk about his childhood, challenges and obstacles he has faced, and what has helped him succeed as a blind musician.
Blind since his infancy, Henry began his academic studies at the Louisiana School for the Blind. Although he played piano since he was six years old, he started taking lessons when he was eight much to his disappointment.
"I was actually volunteered to take lessons," Henry recalls. Now he realizes that although he wanted to learn how to play the piano, he did not want to take classes in addition to his school and homework.
By the time he was in 5th grade, Henry could tell what notes were being played simply by listening to rehearsals from the school's band. After receiving a crash course from the band's teacher, Henry began learning how to compose music. Still, he desired to find a way to be heard, and being involved in the band and playing the piano was the perfect opportunity.
After graduating from the Louisiana School for the Blind, Henry went on to study at Southern University in Baton Rouge and Michigan State University. He was mentored by celebrities like George Duke, Sir Roland Hanna and Alvin Batiste, among others.
Although Henry began his career as a classical music pianist, he soon realized that reading Braille music and playing at the same time created certain challenges. One of these being the amount of space each composition occupied. Beethoven's Sonata Pathétique, for example, is written in four volumes. Also, since he had to read with his hands, he'd have to first read the lines and then take them off the score to play what he had just read. The best solution was to listen and memorize parts of the composition before playing them. Still, he realized that if he wanted to be successful in his career, then he had to keep reading and writing Braille music.
Henry still reads music and writes his countless and successful compositions in Braille. He fully embraces the use of technology which has helped him tremendously to write music. One of the programs he finds particularly helpful is Dancing Dots, a computer software program that helps blind and visually impaired musicians. Users can scan a piece of music, and the program will play it back so they can hear how it sounds.
Today, Henry Butler is considered "the premier exponent of great New Orleans jazz and blues piano tradition." This did not come easily to Henry, as he faced and overcame many challenges as a child. His parents divorced when he was only five years old, and he and his mother and siblings had to move to the Calliope Projects in New Orleans as a result.
"I'm from a very humble beginning and am still at a place where I'm still at a humble beginning," he says.
The fact that he encountered a lot of segregation while growing up also motivated Henry to pursue his dreams. He says that in a way he's thankful that people did not hide their feelings toward him because this motivated him to become a stronger person. He also encourages people regardless of disability or challenges they might be facing to work toward achieving their goals and dreams. This is his advice for people who are blind or have other disabilities:
You need to be twice as good as everybody else to get a decent job. Even if you're three times as good as sighted people, you may not get complimentary or an equivalent job, but at least you'll get something if you want it.
To learn more about Henry Butler, you can read his biography here. A special shout out goes to Henry Butler for taking the time to speak with us at The Chicago Lighthouse and CRIS Radio!