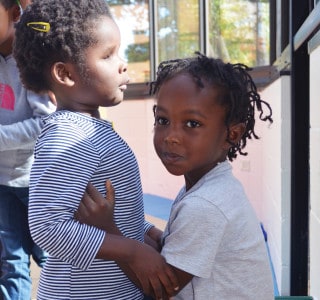 67,000 Reasons to Support The Chicago Lighthouse this Giving Tuesday!
November 17, 2016
For the second consecutive year, The Chicago Lighthouse will participate in Giving Tuesday on November 29. Held the Tuesday after Thanksgiving, Black Friday and Cyber Monday in the United States, Giving Tuesday promotes the generosity of the public and awareness about the work done by nonprofits and other community organizations. In 2015, $16 million was raised on Giving Tuesday alone, and the event generated 1.3 million mentions on social media and 114 million impressions on Twitter. Over 45,000 organizations in 71 countries participate in Giving Tuesday.
Thanks to your support last year, 67,000 individuals who are blind, visually impaired, disabled or Veterans received life changing services from The Lighthouse. Children with and without visual impairments learned alongside each other in our preschool. Seniors with vision loss learned to use computers and iPads, and participated in various social activities. People of all ages received low vision exams free of charge, and learned about assistive technology that will allow them to be more independent. Youth with visual impairments made new friends and found their first jobs, which helped them gain a greater sense of confidence and independence.
"The Lighthouse is unique, and the services that we provide do so much good for people at just about every stage in their life," says Kathy Gregg, director of development at The Lighthouse.
Not only does The Lighthouse provide services to those in the Chicagoland area, but thanks to our Sandy's View blog, we are able to share information with thousands of people in multiple countries. In 2016 alone, Sandy's View has had nearly 18,000 views from readers with and without visual impairments from all over the world! Aside from covering events going on at The Lighthouse, the purpose of Sandy's View is to spread awareness about vision loss by posting valuable information and commentaries about current events. This would not be possible without the support from our generous donors.
I invite everyone who supports the work that goes on at The Lighthouse, or enjoys our Sandy's View blog to please get involved in our #GivingTuesday campaign. Contributions can be made online at our Giving Tuesday page, where you can also learn about several of our participants and how your support has helped change their lives. Donations can also be sent by mail or made in person at The Chicago Lighthouse, located at 1850 West Roosevelt Road in Chicago, IL. Your gifts are tax deductible, and can be made with credit card, check or cash. You can also help by spreading the word about our #GivingTuesday campaign by following, liking and sharing our social media posts, as well as by forwarding our emails.
New this year: your gift will have double the impact! Thanks to the generosity of Board Member Marv Lader and his wife Carol, and Vice Chair Gary Rich and his wife Michelle, the impact of your gift will be doubled if we reach our goal of raising $16,000 in honor of Giving Tuesday. In other words, if we reach our goal, then we would have raised $32,000 for our 39 programs and services. Your gift will help change the lives of many individuals!
For 110 years, The Chicago Lighthouse has been a community of care for people who are blind, visually impaired, disabled and Veterans. This Giving Tuesday, we invite you to support our work by donating or spreading the word about The Lighthouse. Our programs and services help change lives, and we can only continue doing that with your support. For more information about The Lighthouse's Giving Tuesday campaign, contact Kathy Gregg, director of development, at kathy.gregg@chicagolighthouse.org or (312) 997-3681.
---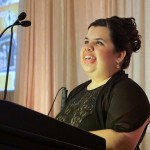 Sandy Murillo works at The Chicago Lighthouse, an organization serving the blind and visually impaired. She is the author of Sandy's View, a bi-weekly Lighthouse blog about blindness and low vision. The blog covers topics of interest to those living with blindness and vision impairments. Being a blind journalist and blogger herself, Sandy shares her unique perspective about ways to live and cope with vision loss.