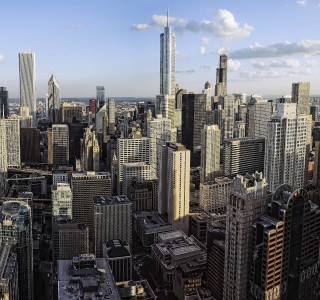 A Chicago Tour You Must Hear!
Many Chicago cultural institutions are holding events to commemorate the 25th anniversary of the ADA. One of these is the Chicago Architecture Foundation (CAF), which will be giving accessible walking tours for people who are blind or visually impaired and their family and friends. These tours will be held on Sep. 12, Oct. 10 and Nov. 7. Although tours are free, reservations are required. I had the opportunity to sit with CAF docents to brainstorm on ideas for making the tours accessible to blind and visually impaired people, and subsequently got a chance to take a "test tour" and preview!
Tour Background
Sabra Goldman is the tour director and a volunteer docent at CAF. She says that the idea for this tour came to them when they were approached by the City of Chicago on the possibility of doing a tour in recognition of the 25th anniversary of the ADA. The fact that some of the docents had previously given a tour to blind teenagers motivated them to design something accessible to people who are blind or visually impaired.
The next step was to brainstorm on how to develop a tour accessible to those with little or no vision. Using their previous experience working with teens who were blind, the docents decided on a tour that would have a lot of verbal descriptions and tactile experiences. They then had to think carefully about what buildings would have unique structures and textures. Some of the buildings they decided on were the Rail Exchange building (CAF's location), the Chase Tower and the Kluczynski, U.S. Post Office and Everett McKinley Dirxen United States Courthouse buildings located in the Federal Plaza complex. Sabra says that these and other buildings were chosen because of their unique size, structure and material textures. Thanks to the generosity of Colombian Model & Exhibit Works, Ltd. and DSM Sonos 3D models of all of the buildings toured are available for participants to feel.
Getting Feedback from Actual Participants!
Last April, Sabra and several of the docents developing the tour met with Chicago Lighthouse staff – both sighted and blind – to get feedback on their project. Some of the things discussed included tour logistics and best ways to describe visuals to people who have been blind part or all of their lives. Both Lighthouse staff and CAF docents had the opportunity to brainstorm suggestions and thoughts on how to make tours as accessible as possible. After that, each docent was assigned a building and had to think of the best way to describe it to tourists.
In August, I, along with several other Lighthouse staff members and residents from Friedman Place, went on the "test" tour. We went to each of the showcased buildings and had the opportunity to give additional comments and suggestions to CAF before the launch of this unique tour.
Final Thoughts and Comments
While accessible exhibits and tours are intended to help blind and visually impaired people have a better appreciation of things they can't see, this goal isn't always met. Previously I have been to "touch tours" and audio described plays, but the reality is that I can't always get the full experience. For example, if I'm handed a 3D replica of a painting at an art museum or someone simply describes what color it is, I don't necessarily always get the full picture. Personally, I need to have a combination of thorough verbal descriptions and hands-on experiences to grasp the picture as fully as possible.
The CAF docents went above and beyond my expectations of the tour. I especially liked that I was able not only to hear thorough descriptions of each building, but also had the chance to feel both the 3D models and actual buildings. Feeling the different materials gave me a better appreciation of each building and its design. It also helped me learn new concepts that would otherwise have been hard for me to understand. For example, although I had heard the term "setback," I had absolutely no idea what it meant. After getting to feel one at the Federal Plaza buildings, I now understand how these structures help hold buildings together.
Many thanks to the Chicago Architecture Foundation for involving several of us at the Lighthouse in the development of this tour. This showed their commitment to providing blind and visually impaired people the most thorough experience possible. I highly recommend this tour to anyone who is blind or visually impaired and wants to learn more about Chicago and different building structures and materials. The verbal descriptions combined with hands-on experiences are sure to give you a better appreciation of the city's different buildings!
For more information or to register for the Chicago Must-Hear accessible tour, call 312-922-8687 or click on this link. Have you been to accessible tours or exhibits designed for the blind or visually impaired? What has your experience been like? What feedback or recommendations do you have to make them more accessible? We'd love to hear your feedback! You may also send any questions or comments to sandysview@chicagolighthouse.org. Have a great weekend!